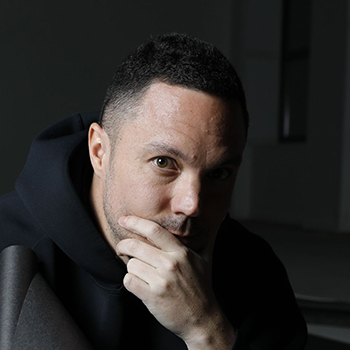 Miguel Braceli
Miguel Braceli is an artist, architect, and educator. His practice is focused on participatory art projects in public space; working at the intersection of art, architecture, and social practices; and exploring geopolitical and local conflicts. Most of these projects have been large-scale works developed in Latin America, Europe, and the United States; exhibited in galleries and institutions through photography, sculpture and film. He has led educational projects with institutions such as Documenta Fifteen, The Bronx Museum of Arts, Matadero Madrid, among others. His most recent participations and recognitions include Skowhegan School of Painting (2022), Art Omi (2021), AIM Bronx Museum Fellow (2022), Fulbright Scholar (2020-2019), and Young Artist Award of the Principality of Asturias (2018). In 2021 He founded LA ESCUELA___ together with Siemens Stiftung International. In 2022 he received a commision by the Percent for Art program for a permanent public artwork in New York City, where he is currently living and working.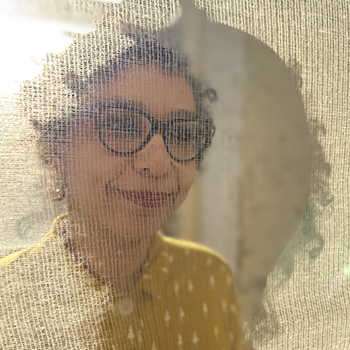 Rehab El Sadek
Rehab El Sadek is a US–based Egyptian artist whose work utilizes sculpture, light, shadow, and memory to investigate the layered reality of the immigrant experience. Using repurposed and incorporeal materials, she creates alternative spaces that invite viewers to contemplate the role of the individual—especially marginalized individuals—in society and the built environment. Placemaking can be a poetic act and a tool to build community. These are the core ideals of her art practice. El Sadek has received numerous honors including a 2023 Pollock–Krasner Grant, the 2022 Project Row Houses Southern Survey Biennial Prize, a 2021 Gottlieb Foundation Individual Grant, a 2021 Sustainable Arts Foundation Grant, a 2019 Foundation for Contemporary Arts Emergency Grant, and a Sharjah Biennial Installation Prize, 1999. She also held a one–year appointment as the City of Austin's first Artist–in–Residence, 2017, embedded in the City's Watershed Protection Department investigating social and environmental issues. In 2009, El Sadek was one of 88 female artists included in REBELLE: Art and Feminism 1969-2009 – an extensive forty–year survey of feminist artwork at Museum voor Moderne Kunst, Arnhem, Netherlands. Selected residencies include MacDowell Fellowship, 2020; Bemis Center For Contemporary Arts, 2022; MacColl Center, 2021; Vermont–Studio Center; Gasworks Studios–London; and Art Omi.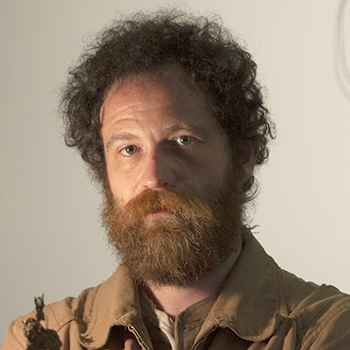 Jeff Gibbons
Jeff Gibbons (b. Detroit, 1982) is an intermedia artist. His work has been shown internationally in México, Japan, and across Europe. In the US, Gibbons has exhibited at venues such as the Nasher Sculpture Center, the Power Station, and The Dallas Contemporary. He has held artist residencies at Cerámica Suro in Guadalajara, México; Achterhaus in Hamburg, Germany; and The Goss-Michael Foundation in Dallas, Texas, among others. In 2018, he spoke about ice at the National Academy of Sciences in Washington, D.C.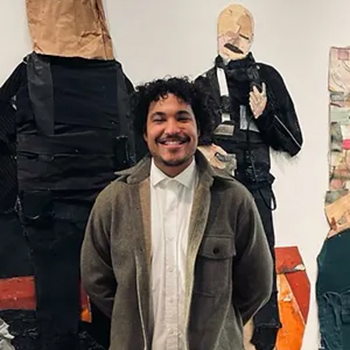 Oscar Morel
Oscar Morel is a figurative collage artist from the Bronx who constructs narratives of the afro surreal—iconographic scenes of the afro Caribbean experience unfolding in the landscape of urban living. He has received residencies such as the Studios at MassMOCA, MacDowell Colony, and The Arrowmont Penticulum. Morel earned his MFA from Boston University and his BA at DePauw University.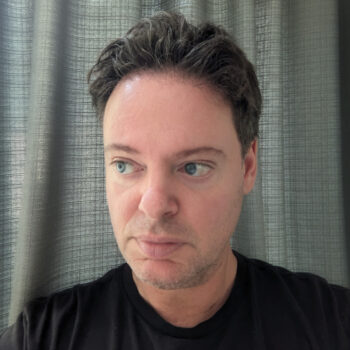 Micha Patiniott
Micha Patiniott creates minimalistic and atmospheric paintings of everyday objects and processes in flux, blurring the boundaries of the mundane and the cosmic. Familiar and intimate subjects, such as the blinking of a butterfly's wings, the throbbing of private body parts, the curving of a mathematical object, and the turning of an ambiguous portrait, transform into sensuous otherness through painterly modifications. Bodies and objects gently float and are in the midst of changing form—they may vanish entirely, or exist in indeterminate stages of becoming. Some parts remain enigmatically blurred and abstracted, while others emerge with sharp clarity. A play of nebulous light and skewed colors alludes to a contemporary take on historical painting techniques like impressionism and sfumato. Patiniott embraces impermanence as a crucial element in experiencing the transcendent and sublime, reflecting the metamodernism concept of exploring ever-shifting perspectives of the self. He lives and works in Amsterdam, and holds an MA from the HKU University of the Arts Utrecht. He was a resident artist at the Rijksakademie Amsterdam (2006-07) and the Fine Arts Work Center Provincetown (2008-09). Solo and group exhibitions include the Stedelijk Museum Schiedam; Anna Zorina Gallery, New York; PuntWG, Amsterdam; Cinnamon, Rotterdam; Heden, Den Haag; WHATSPACE, Tilburg;  MKgalerie, Rotterdam; Galerie Sturm, Nuremberg; Dordrechts Museum; Whitechapel Gallery, London; Arti et Amicitiae, Amsterdam; and Museum Hilversum. Patiniott is a returning Fellow from 2008-2009.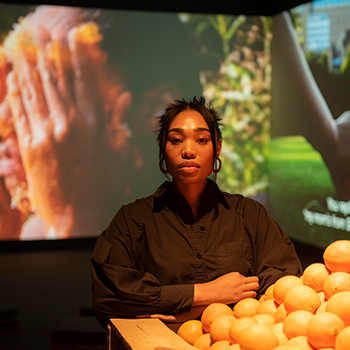 LaRissa Rogers
LaRissa Rogers (b. 1996) is a Black and Korean visual artist raised in Ruckersville, VA. She is currently based between Virginia and Los Angeles. She holds a BFA in Painting from Virginia Commonwealth University and an MFA in New Genres from UCLA. Rogers has exhibited and performed in institutions such as Frieze Seoul (Korea), Documenta 15 (Germany), Fields Projects (NY), Super Dakota (Brussels), M+B Gallery (CA), LACE (CA), and the Museum of Contemporary Art (VA) among others. She received the Visual Arts fellowship at the Virginia Museum of Fine Arts (2022) and the Black Artists and Designers Guild Creative Futures Grant (2022). She attended the BEMIS Center of Contemporary Art Residency (2022), Black Spatial Relics Residency (2022), and SOMA (2019), among others. She is the co-founder of the alternative monument and community gathering space "Operations of Care" located in Charlottesville, VA and will be installing a public sculpture with the Rose Kennedy Greenway in Boston, 2024.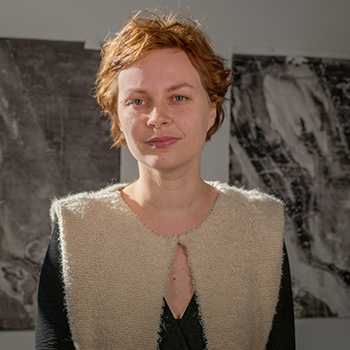 Tinja Ruusuvuori
Tinja Ruusuvuori is a multidisciplinary artist and filmmaker with a focus on subjective and creative documentary-making. She is interested in choosing charged objects, images, and gestures that obey some mysterious order—and cultivating rather than eradicating that sense of mystery. Through her careful investigation of everyday phenomena, it emerges that these stand as metaphors for wider questions about how and why we live together. With tenderness and humor, she seeks in her work to question a forward trajectory. This often involves an invitation to others to coauthor and collaborate. Ruusuvuori holds an MLitt in Fine Art Practice from the Glasgow School of Art and a BA in documentary film directing from Aalto University, Helsinki. She has participated in residencies at the Cité International des Arts Paris and at the Fine Arts Work Center, while her work has been shown at international film festivals, including Visions du Réel, Toronto Hot Docs, Camden International Film Festival, and London Short Film Festival. In 2019, Ruusuvuori received the Uusi Aalto Award for new talent in Finnish cinema. She lives and works in Tampere, Finland. Ruusuvuori is a returning Fellow from 2022-2023.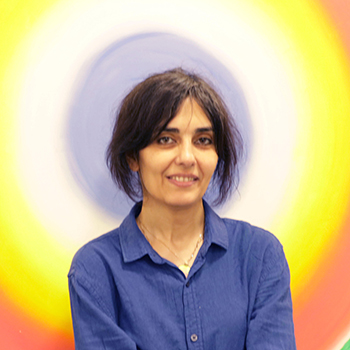 Zeinab Shahidi Marnani
Zeinab Shahidi Marnani was born in Isfahan, Iran in 1983. Shahidi lives and works in Tehran and New York. She holds an MFA in sculpture from Yale School of Art and a bachelor of visual communication from the University of Tehran, College of Fine Arts. She works in various visual art disciplines including video installation, painting, and collage. Shahidi was an artist-in-residence and a young artist mentor at The Watermill Center in 2019 as an alumnus.  She was the recipient of the Inga Maren Otto Fellowship from The Watermill Center in 2016. In 2015, she received Art Jameel and Edge of Arabia's second annual artist residency program fellowship at The International Studio and Curatorial Program (ISCP) in New York, among other residencies. Her work has been exhibited internationally at many venues, including at the Azad Art Gallery in Tehran; the Museum of Moscow; the Museum of Contemporary Art in Copenhagen;  ALLGOLD at the MoMA PS1 Print Shop in New York; Devi Art Foundation in India; and Emrooz Art Gallery in Isfahan.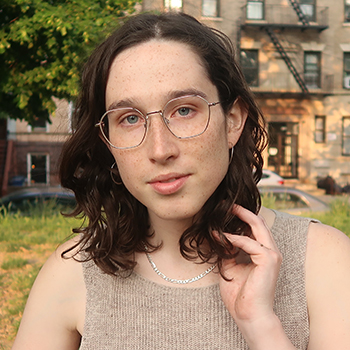 Agnes Walden
Agnes Walden is a painter concerned with transgender subjectivities and the ways in which attempts to describe trans life are conditioned by allegory. Recent solo exhibitions include Aurora Consurgens at Launch F18 in New York, Favors at An Sylvia Exhibitions in Chicago, and Laundry Day at AMFM Gallery in Chicago. Her paintings and writing have been featured in publications such as New American Paintings, ASAP/Journal, and Saatchi Art's 2021 Rising Stars Report. In 2020, Walden received a grant from The Elizabeth Greenshields Foundation. She holds an MFA in Painting from Rhode Island School of Design and a BA in Studio Art from Colorado College. She has taught as a Visiting Assistant Professor of Drawing at Rhode Island School of Design and as a high school art teacher at The Dalton School. Walden lives and works in New York.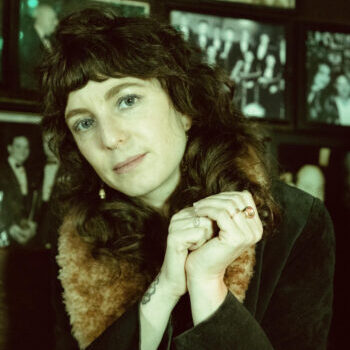 Sasha Wortzel
Sasha Wortzel is a visual artist and filmmaker using film, video art, installation, sculpture, and sound to explore how this country's past and present are inextricably linked through resonant spaces and their hauntings. Wortzel has screened and exhibited at MOMA DocFortnight, True/False, CPH:DOX, San Francisco International, Wexner Center for the Arts, Smithsonian American Art Museum, New Museum, The Kitchen, Henry Art Gallery, and Cooley Memorial Gallery, among others. Wortzel has received support from the Ford Foundation, Sundance, Field of Vision, Chicken & Egg Pictures, Doc Society, and a 2023 Guggenheim Fellowship. Wortzel's work is in the permanent collections of the Brooklyn Museum, Studio Museum of Harlem, Leslie Lohman Museum, and Miami-Dade County Art in Public Places.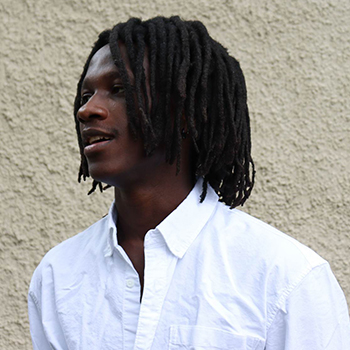 Adeniyi Ademoroti
Adeniyi Ademoroti, from Lagos, Nigeria, received his MFA in fiction from the Iowa Writers' Workshop. His work has appeared in The Southern Review and AGNI. He is at work on a novel.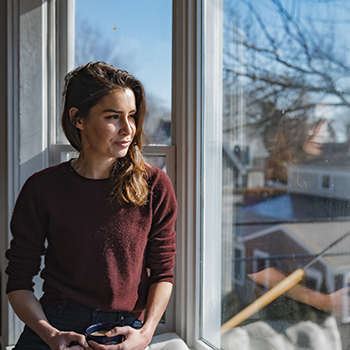 Molly Anders
Molly Anders is a fiction writer from Kentucky. Her work has appeared in The North American Review, Cimarron Review, The Stinging Fly, Tin House, and elsewhere. She has received fellowships from the Norman Mailer Center and the James Merrill House and was the 2020-2021 Grace Paley Fellow at the Fine Arts Work Center. She attended the MFA Program at Syracuse University, where she won the Joyce Carol Oates Fiction Prize. Anders is a returning Fellow.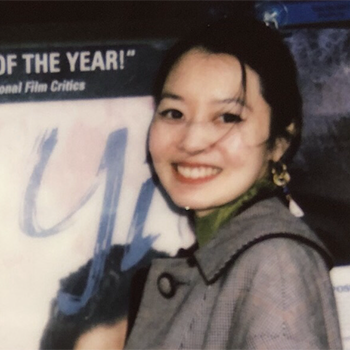 Grace Chao
Grace Chao was born and raised in the San Francisco Bay Area. Her writing is preoccupied with how time and memory distort perceptions of crucial relationships; with loss of faith; and with what happens when a family's dreams, whether grand or ordinary, are broken. She is the winner of The Sewanee Review's 2022 Fiction Contest, as well as the recipient of a 2023 Oregon Literary Arts Career Fellowship and a 2023 Tin House residency. She holds a BA and MA from Stanford University and is completing an MFA in fiction at the University of Oregon. In Provincetown, she will be working on a story collection about a Taiwanese American family.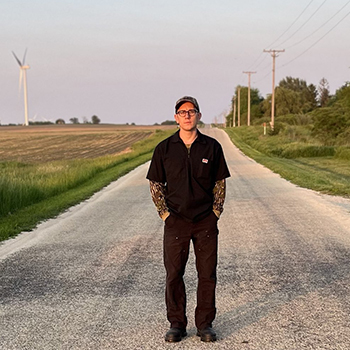 Jack Eley
Jack Eley is a poet from the Midwest.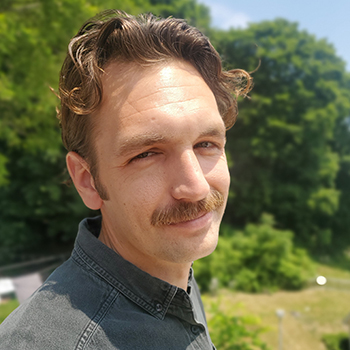 David Hutcheson
David Hutcheson is a poet from eastern Carolina living in the Hudson River Valley. His poems can be found in A Dozen Nothing, Michigan Quarterly Review, No Tokens, and Ploughshares. Hutcheson is a returning Fellow from 2017-2018.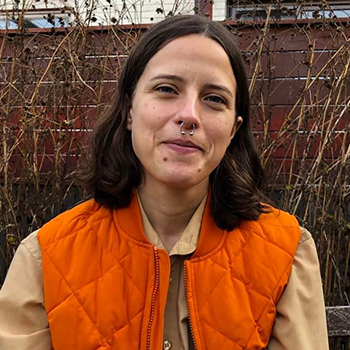 Lindsay Miles
Lindsay Miles is the author of the chapbooks Edeltraut (Anstruther Press, 2022) and A Period of Non-Enforcement (The Operating System, 2019). Her work has appeared in The Capilano Review, Poetry is Dead, Grain, Plenitude, and elsewhere. She holds an MFA in poetry from the University of Guelph. She lives in Toronto, Canada.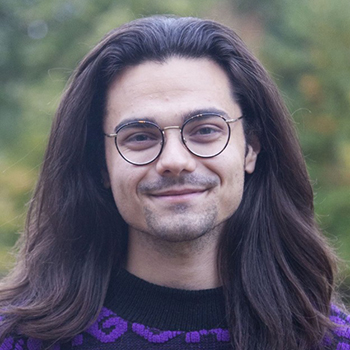 Tyler Raso
Tyler Raso is a poet, essayist, teacher, and dabbler in visualities. They hold an MFA from Indiana University and have edited and read with The Kenyon Review, the Indiana Review, and pidgeonholes. Their work shares space with Poetry, Black Warrior Review, DIAGRAM, Foglifter Journal, Split Lip Magazine, The Offing, and elsewhere. Their chapbook, In my dreams/I love like an idea, was selected as the winner of the 2022 Frontier Digital Chapbook Contest. In Provincetown, they will be working on their manuscript of poems centered on the queer childhood, the prismatic possibilities above/below/beyond/between/without gender, and unnamed intimacies, alongside a book of essays.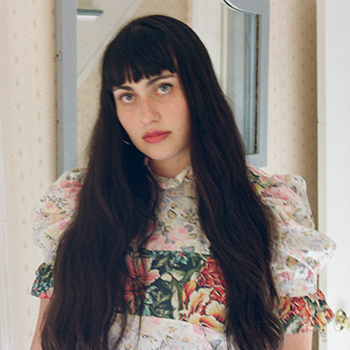 Avigayl Sharp
Avigayl Sharp is a writer from Chicago. Her fiction has appeared in The Paris Review, Granta, New England Review, and elsewhere, and has received support or recognition from The Granum Foundation and the Desperate Literature Short Fiction Prize. In 2023 she was named winner of the Disquiet Literary Prize. She holds an MFA from the Michener Center for Writers in Austin, Texas.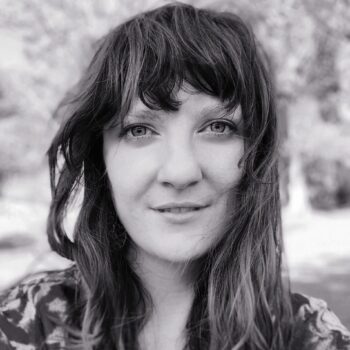 J.J. Starr-McClain
J.J. Starr-McClain is a poet from Chicago and is currently based in Springfield, Massachusetts. Her work has appeared in The Common, Four Way Review, Juked, The Journal, and elsewhere. She studied at the NYU Creative Writing Program and has received support from Wesleyan University and the Community of Writers.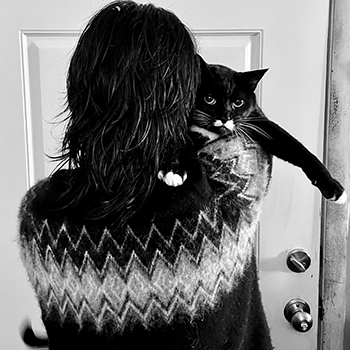 Seth Wang
Seth Wang's fiction has appeared in Ploughshares, Gulf Coast, and Passages North and won the 2022 PEN/Robert J. Dau Short Story Prize for Emerging Writers. They have an MFA from Washington University in St. Louis. They are working on a novel.