Faculty Presentation: Bishakh Som and Oliver Baez Bendorf
Tuesday, June 27, 2023
6 PM
Join us for a faculty presentation with Bishakh Som and Oliver Baez Bendorf.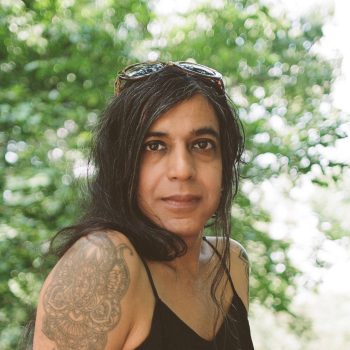 Bishakh Som is an Indian-American trans femme visual artist and author. Her work has appeared in The New Yorker, The Boston Review, and The Georgia Review, amongst other publications. Her graphic novel Apsara Engine (The Feminist Press) is the winner of a 2020 Los Angeles Times Book Prize for Best Graphic Novel and a 2021 Lambda Literary Award winner for Best LGBTQ Comics. Her graphic memoir Spellbound (Street Noise Books) was also a 2021 Lambda finalist. Som's artwork has been exhibited at The Society of Illustrators, the Grady Alexis Gallery, De Cacaofabriek, and Art Omi.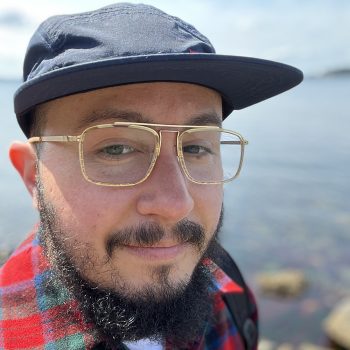 Oliver Baez Bendorf is a poet and teacher based on the Front Range of Colorado. His latest book, Consider the Rooster, is forthcoming from Nightboat Books in 2024. He is the author of two previous collections of poetry: Advantages of Being Evergreen and The Spectral Wilderness. He has received fellowships and awards from the National Endowment for the Arts, The Publishing Triangle, CantoMundo, and the Wisconsin Institute for Creative Writing. His poems have been published in American Poetry Review, BOMB, Denver Quarterly, The Nation, Orion, POETRY Magazine, and elsewhere, and anthologized in Best American Poetry and Troubling the Line: Trans and Genderqueer Poetry and Poetics. He has taught poetry at University of Wisconsin-Madison, Kalamazoo College, 826DC, The Queens Center for Gay Seniors, Warren Wilson College, and Bread Loaf Environmental Writers' Workshop. He holds degrees from the University of Wisconsin-Madison and University of Iowa.
All readings and artist talks are held in the Stanley Kunitz Common Room, unless otherwise noted. Our annual summer exhibition, Everyone We Know is Here, is on view June 2 through August 25, 2023 in our Hudson D. Walker Gallery. Both venues are located at 24 Pearl Street in Provincetown.
Gallery Hours: Monday – Thursday, 11 AM – 3 PM / Friday and Saturday, Noon – 5 PM

The Stanley Kunitz Common Room and the Hudson D. Walker Gallery are accessible facilities in compliance with ADA guidelines.

If  you require assistance to access these venues, please call the Fine Arts Work Center at 508-487-9960 ext.101 in advance of your visit.