Faculty Presentation: Nabil Gonzalez and Matthew Olzmann
Tuesday, July 18, 2023
6 PM
Join us for a faculty presentation with Nabil Gonzalez and Matthew Olzmann.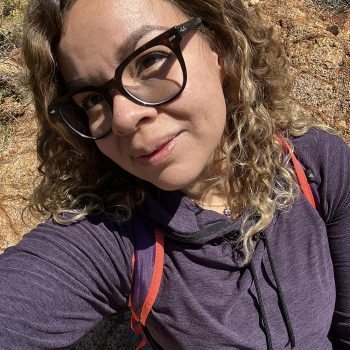 Nabil Gonzalez uses various printmaking techniques as a form of representing erasure and loss of identity through matrix repetition, referencing social and political issues affecting the border between the United States and Mexico. She is a Professor at the University of Texas, El Paso where she teaches Printmaking, Drawing, and Graphic Design. She received her MFA in Printmaking from the Rhode Island School of Design.
Matthew Olzmann is the author of Constellation Route, as well as two previous collections of poetry: Mezzanines (selected for the 2011 Kundiman Prize) and Contradictions in the Design. A recipient of fellowships from Kundiman, MacDowell, and the National Endowment for the Arts, Olzmann's work has appeared in Best American Poetry, The New York Times, The Pushcart Prizes, Kenyon Review, New England Review, and elsewhere. He is an assistant professor of English and Creative Writing at Dartmouth College and also teaches in the MFA Program for Writers at Warren Wilson College.
All readings and artist talks are held in the Stanley Kunitz Common Room, unless otherwise noted. Our annual summer exhibition, Everyone We Know is Here, is on view June 2 through August 25, 2023 in our Hudson D. Walker Gallery. Both venues are located at 24 Pearl Street in Provincetown.
Gallery Hours: Monday – Thursday, 11 AM – 3 PM / Friday and Saturday, Noon – 5 PM

The Stanley Kunitz Common Room and the Hudson D. Walker Gallery are accessible facilities in compliance with ADA guidelines.

If  you require assistance to access these venues, please call the Fine Arts Work Center at 508-487-9960 ext.101 in advance of your visit.