NEWS
JUNE 02, 2021
SABLE ELYSE SMITH NAMED ONE OF 16 LGBTQ VISUAL ARTISTS TO KNOW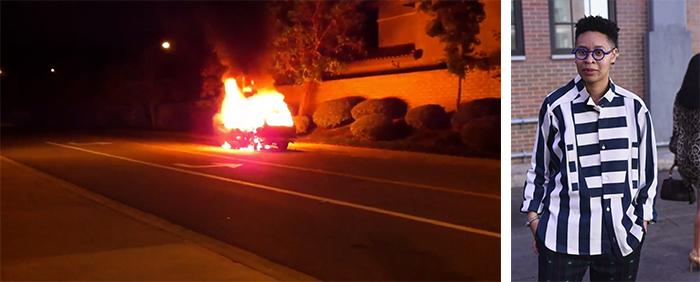 Essence Magazine has just named Sable Elyse Smith (Visual Arts Fellow 2016-2017) "one of the black contemporary artists that have increased queer visibility and shaped our understanding of identity and sexuality through their work." Elyse Smith is an interdisciplinary artist who creates using photography, illuminated neon text, video installations and other mediums. "Queer individuals are the heartbeat of the arts community. Since the beginning of time, LGBTQ men and women and non-gender conforming artists have held space for unpopular sentiments, magical possibilities and powerful truths on stages, screens and canvases. Painters, videographers, photographers, collage makers, and other artists help us see ourselves and one another. The work of these creators is worthy of attention and consideration year-round, and platforms like Black Trans Femmes in the Arts, ISE-DA, and the Queer Biennial are working to ensure that happens." Image above: FEAR TOUCH POLICE, 2020, screenshot from landing page to digital magazine. Image courtesy of Swiss Institute, New York. Note about this work – A short clip functions as the backdrop for Sable Elyse Smith's multimedia project in three issues – "FEAR TOUCH POLICE" – commissioned by the Swiss Institute and exhibited on a dedicated website. It is roughly 18 seconds of footage showing a solitary car parked by the side of a road at night engulfed in flame. After 14 seconds the car explodes, the camera jolts and then restabilizes. Then the clip resets.
LEARN MORE
JUNE 01, 2021
SAM MESSER CREATES MURALS FOR AMAZON'S NEW "THE UNDERGROUND RAILROAD" MINI-SERIES

Sam Messer (Visual Arts Fellow 1981-1982) was asked to create a series of extraordinary murals and paintings for Amazon's new 10-part mini-series "The Underground Railroad." Created and directed by Academy Award winner Barry Jenkins, the series is based on Colson Whitehead's Pulitzer Prize-winning novel, The Underground Railroad. "The series chronicles Cora Randall's desperate bid for freedom in the antebellum South. After escaping a Georgia plantation for the rumored Underground Railroad, Cora discovers no mere metaphor, but an actual railroad beneath the Southern soil." In addition to two large paintings, Messer painted two murals – each nearly 20' wide – as part of the production. "The first mural depicted the people who built this nation – by the slaves who worked for the people who took the land from the indigenous people. The second mural depicts hope and the story of moving from the time of slavery to the future," says Messer.
LEARN MORE
MAY 27, 2021
ANN REICHLIN'S NEW INSTALLATION AT EASTERN STATE PENITENTIARY – "TRANSIENT ROOM"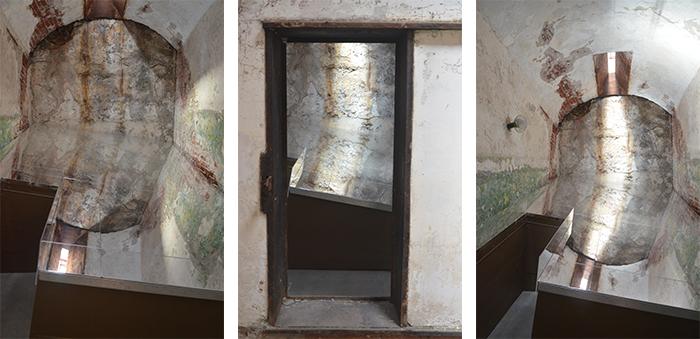 Ann Reichlin's (Visual Arts Fellow 1988-1989) stunning new installation "Transient Room," opened at Eastern State Penitentiary Historic Site in Philadelphia in May 2021, almost one year after the intended 2020 opening which was postponed due to the pandemic. "Even without an artist's intervention, the light that enters the cells is remarkable," says Reichlin. "A reflective plane installed in a cell explores the contradictions inherent in Eastern State's architecture and historic practices. These cells can be considered simultaneously "restrictive, cruel, and hauntingly beautiful." Stepping into the cell, visitors experience the reflective plane's impact on this complicated space as it bends the shape of the light entering from the skylight, creates an imaginary room by reflecting and distorting the cell's architecture, and alters the floor plane of the cell." Images above: Transient Room (details), 2021, Mirrorlite and wood, 18" long x 8'4" wide x 13' high at the highest point, 8.5" high at the lowest point
LEARN MORE
MAY 25, 2021
ARGHAVAN KHOSRAVI'S NEW EXHIBITION AT RACHEL UFFNER GALLERY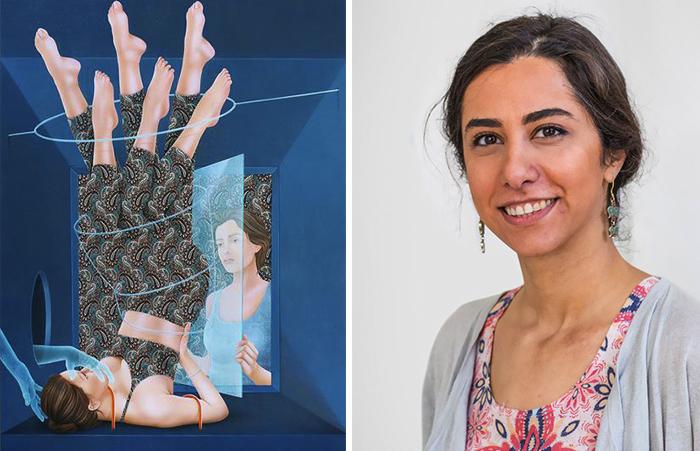 "In Between Places," the new solo exhibition from Arghavan Khosravi (Visual Arts Fellow 2018-2019), has recently opened at the Rachel Uffner Gallery in NYC. "Largely made in isolation during the past year of quarantine, the new works in the exhibition build upon Khosravi's previous explorations of techniques taken from historical painting genres — such the use of stacked perspective in Persian miniature painting — while also incorporating new sculptural and three-dimensional elements that further emphasize qualities of illusion and artifice. The paradoxical scenes in Khosravi's paintings often reflect the artist's experiences growing up and living in Iran, where personal freedom remains severely constrained by ideological autocracy. Rendered on surfaces that have been layered to create visual depth, the new paintings evoke the structure of a theatrical set and the corresponding implication of a not-quite-real world built on false appearances." The exhibition runs through June 5. Image above: Four Elements, 2021, verso, acrylic and cement on cotton canvas wrapped over shaped wood panel, wood cutout, plexiglass, 38.5" x 68.25" x 8"
LEARN MORE
MAY 14, 2021
AUTUMN WALLACE – SOLO EXHIBITION AT GAA GALLERY PROVINCETOWN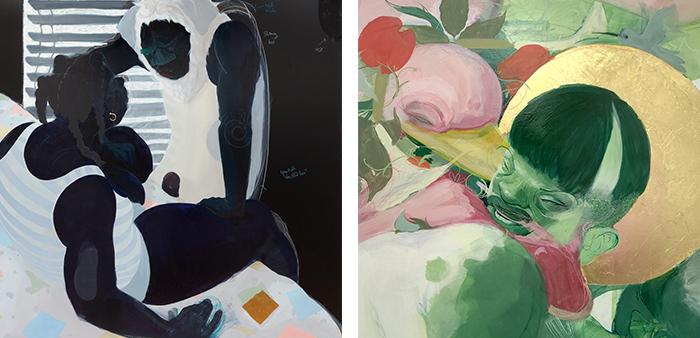 Autumn Wallace's (Visual Arts Fellow 2019-2020) new solo exhibition has just opened at Gaa Gallery Provincetown. "How to Hug Yourself: 10 Steps (with Pictures)," based on a Wikihow article, is a solo exhibition of Wallace's paintings, sculptures, and a limited-edition artist book. "The exhibition walks the viewer through a non-linear hybrid of a how-to-manual, existential guide, and a visual narrative. Through exploring motifs including rebirth, baptism, fortune-telling, penmanship, sadism, and altruism, Wallace's exhibition examines human sexuality, gender, kinship, and caregiving. Meticulously rendered in oil, acrylic, and pastel with accents of gold leaf and rhinestones, Wallace's paintings are animated by a rich tonal range, texture, and an acute sense of color, surface, and materiality. Influenced by early 90's cartoons, Byzantine aesthetics, Baroque Style, Neoclassicist paintings, and what Wallace describes as 'low-quality adult materials.'" Through June 28. Left image: Gold Plated Moment, 2021, acrylic, oil, pastel, and gold leaf on PVC, 48" x 48" Right image: Good Lookin',Out (a.k.a. Classic Holoalphabetic Scenario), detail, 2021, acrylic, oil, pastel, and gold leaf on PVC, 48" x 48"
LEARN MORE
MAY 14, 2021
"DEADLY WEAPONS" – LINDA BOND'S NEW INSTALLATION AT EASTERN STATE PENITENTIARY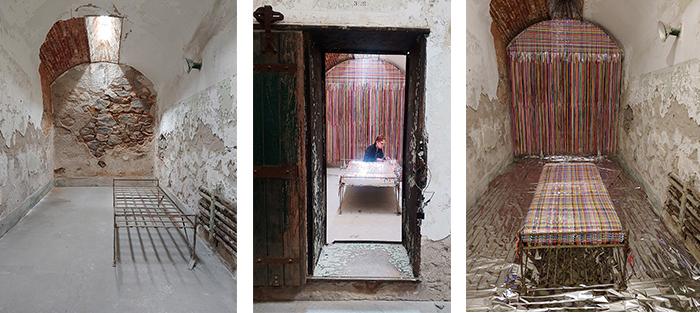 "Deadly Weapons," is the title of the powerful new installation by Linda Bond (Visual Arts Fellow 1978-1979) at Eastern State Penitentiary historic site in Philadelphia, PA. The only new installation selected for 2021, "Deadly Weapons" adds a profound new work to the other artist projects installed throughout the old penitentiary site. An outgrowth of the work Bond has been engaged with for many years, the installation is comprised of a cell floor carpeted in Mylar blankets, a curtain of knotted shoelaces, and a blanket woven with multicolored shoelaces and Mylar strips that all reference the experiences of immigrants detained at the U.S. – Mexico border. "When asylum seekers are taken into custody, their shoelaces are confiscated because they may be used as "deadly weapons." This also prevents detainees from running away. Inside crowded holding cells, migrants sleep on floor mats with only Mylar blankets for warmth. Upon release – in most cases back into Mexico – the shoelaces are often not returned. With little at their disposal, many asylum seekers fashion makeshift shoelaces from metallic strips of the Mylar blankets issued to them in detention." The installation will be on view through 2021.
LEARN MORE
MAY 10, 2021
ANDREW PALMER'S DEBUT NOVEL, "THE BACHELOR," FORTHCOMING IN JULY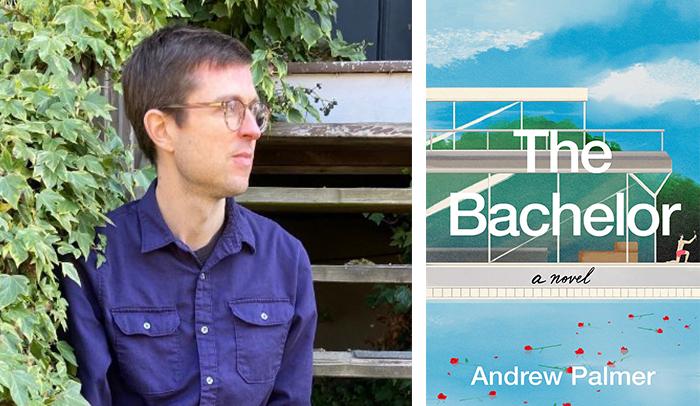 The Bachelor, the debut novel from Andrew Palmer (Writing Fellow 2013-2014) is forthcoming in July from Hogarth. The Bachelor is described as "an incisive, witty, and tender debut novel about love and commitment, celebrity and obsession, poetry and reality TV, by the publisher. In his praise for Palmer's new novel, Salvatore Scibona (Writing Fellow 2002-2003 and 2001-2002) and author of The End and The Volunteer, writes "Jane Austen might have written a book like this: a pitch-perfect story of the self-conscious agonies of searching for someone to marry, composed with a mastery of free indirect style; a piece of art as dizzying as the technological and cultural changes of its time, but in conversation with the works of the past. The Bachelor may be a satire, except that it is utterly sincere. The whole time I was reading it, I felt terrifically happy."
LEARN MORE
MAY 06, 2021
JOHN MURILLO WINS THE 2021 FOUR QUARTETS PRIZE

The T. S. Eliot Foundation and the Poetry Society of America has just announced that John Murillo (Writing Fellow 2007-2008) is the winner of the 2021 Four Quartets Prize for his poem "A Refusal to Mourn the Deaths, by Gunfire, of Three Men in Brooklyn" from his collection Kontemporary Amerikan Poetry (Four Way Books, 2020). He was selected by judges Carolyn Forché, Donika Kelly and Arthur Sze. "The Four Quartets Prize – which was launched in 2018 on the 75th anniversary of the publication of T. S. Eliot's Four Quartets in a single volume, in America, in 1943 – is first and foremost a celebration of the multi-part poem, and is awarded to a unified and complete sequence of poems published in America in a print or online journal, chapbook, or book in 2020."
LEARN MORE
APRIL 30, 2021
HEIDI HAHN'S NEW EXHIBITION – "A WOMAN WITH THE SHAPES"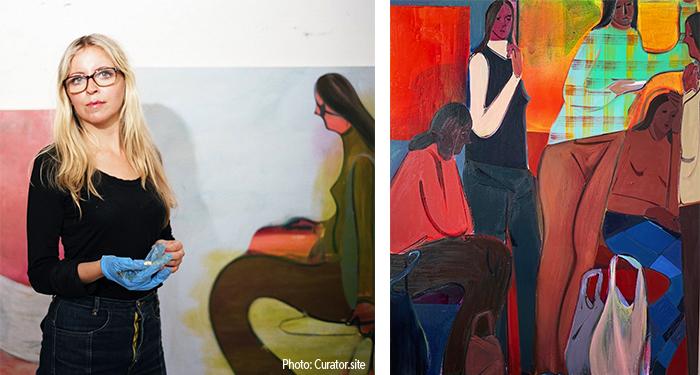 Heidi Hahn's (Visual Arts Fellow 2015-2016 and 2014-2015) new exhibition, "A Woman With the Shapes," has just opened at the Kadel Willborn Gallery in Düsseldorf. "The show is an impressive focus on the nonverbal interstices of subjective and societal identity. In conceptual terms, then, Hahn's motifs depict an amalgamation of women. Each body appears in the shape of an abstracted typographic sign. The clothing alters its function, ranging from a protective cover, to an architectural housing, all the way to permeability or the disturbing hindrance of a new self-definition." Describing her work, Hahn says, "I find with paint the description can be in the materiality, and all I have to do is distill the images into some over- all experience. I have never called my- self an artist; I am always and only a painter. It's through that lens that I navigate in my life." The exhibition rums from April 30 through June 5. Left image: A Woman With the Shapes 1, 2021, oil on canvas, 76" x 64" Center image: A Woman With the Shapes 6, 2021, oil on canvas, 72" x 64" Right image: A Woman With the Shapes 4, 2021, oil on canvas, 68" x 54"
LEARN MORE
APRIL 28, 2021
JENNIFER PACKER AWARDED 2021 ROME PRIZE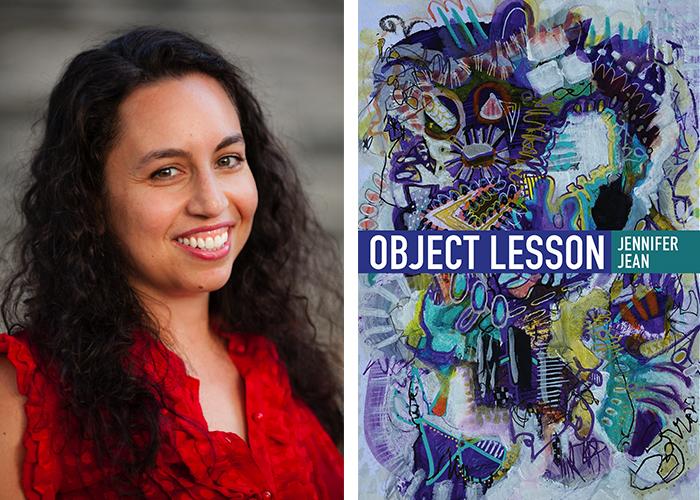 Jennifer Packer (Visual Arts Fellow 2015-2016 and 2014-2015), was recently selected as a 2021 Rome Prize Fellow in Visual Arts by the American Academy in Rome. "For over a century, the American Academy in Rome has awarded the Rome Prize to support innovative and cross-disciplinary work in the arts and humanities. Each year, the prize is awarded to about thirty artists and scholars who represent the highest standard of excellence and who are in the early or middle stages of their careers." Jennifer's residency in Rome runs through August 6, 2021. Photo: A.H. Jerriod Avant
LEARN MORE