NEWS
APRIL 06, 2021
JACOLBY SATTERWHITE PRESENTS NEW FILM & EXHIBITION AT THE 13TH GWANG BIENNALE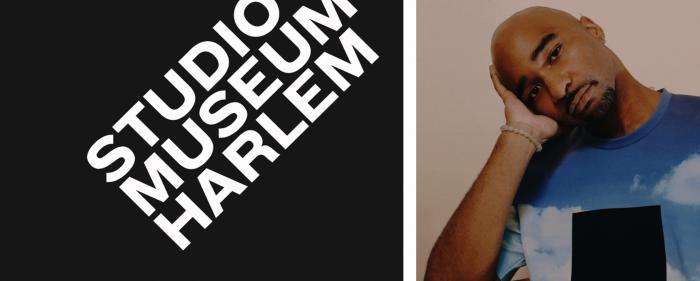 Jacolby Satterwhite (Visual Arts Fellow 2012-2012 and 2011-2012) has been selected to present the world premiere of his new film, "Shrines" (2020) and to exhibit, "We Are in Hell When We Hurt Each Other" (2020), at the 13th Gwang Biennale in South Korea. "From family VHS tapes and 3D printed sculptures to a virtual reality album, Satterwhite defies the limits of materiality, genre, and western canonizing to build universes that centralize the body as a portal. In seductive and disquieting ways, he unveils the operations of technocapitalism, the ever-present codes of enslavement, and planetary toxicity. His inspiration ranges from 1990s video games to New York's queer nightlife and from Caravaggio paintings to Grace Jones, yet Satterwhite's most enduring influence has been his mother Patricia Satterwhite, who opened his mind to the possibilities of art as a restorative space to plot a deeper consciousness of the world through her fragmented, schizophrenic mental state. Her archive of drawings, song lyrics, and acapella, folk, and gospel-inspired cassette tape recordings are a steady pool of reference, writes Natasha Ginwala." "I didn't understand how poignant that practice was, as this cathartic self-care ritual that went into place when she couldn't get insurance or proper mental health help," adds Satterwhite." Through May 9. Image above: We Are in Hell When We Hurt Each Other, 2020, video still, courtesy of the artist and Mitchell-Innes & Nash, New York
LEARN MORE
APRIL 06, 2021
JONATHAN EHRENBERG – NEW WORKS AT THE ESSEX FLOWERS GALLERY, NYC

"Coordinates," Jonathan Ehrenberg's (Visual Arts Fellow 2011-2012) new exhibition has just opened at the Essex Flowers Gallery in NYC. Ehrenberg "is interested in how we experience reality as a construct, a seemingly coherent world we piece together from sensory information and images we see internally – memories, fantasies, and associations." His work has been included in exhibitions at MoMA PS1, SculptureCenter, The Drawing Center, Nicelle Beauchene Gallery (New York), Futura Center (Prague), The B3 Biennial (Frankfurt), Temnikova & Kasela (Tallinn), and Nara Roesler (São Paulo). Through April 25. Left image: 4AM, 2021, dye sublimation print, 20" x 31", with artist's clay frame Right image: Sleep, 2021, dye sublimation print, 5" x 9"
LEARN MORE
MARCH 30, 2021
SALVATORE SCIBONA WINS A 2021 LITERATURE AWARD FROM THE AMERICAN ACADEMY OF ARTS AND LETTERS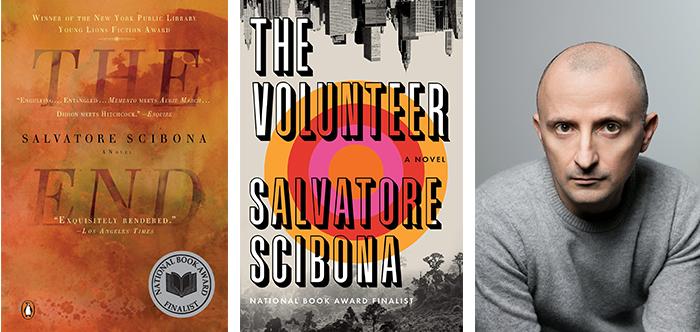 Salvatore Scibona (Writing Fellow 2002-2003 and 2001-2002) has just won a 2021 Mildred & Harold Strauss Livings Award from the American Academy of Arts and Letters. The award recognizes literary excellence and provides writers the freedom to devote their time exclusively to writing. The Academy's literature prizes, totaling $600,000, honor both established and emerging writers of fiction, nonfiction, drama, and poetry. The awards will be presented virtually at the Academy's annual Ceremonial at 7PM on May 19.
LEARN MORE
MARCH 30, 2021
ADAM DAVIES & JOAN WICKERSHAM – "CONVERSATION WITH A SHIPWRECK"

Scandinavia House in NYC, has just introduced its new online interactive digital exhibition, "Conversation With a Shipwreck." This multimedia meditation on the Swedish warship Vasa, was created in word and image by American Scandinavian Foundation Fellows Joan Wickersham and Adam Davies (Visual Arts Fellow 2008-2009). "Through presentations of poems and large-format photographs, with short durational video and audio, this digital art and literary exhibition responds to the legendary warship – which sank only minutes into her maiden voyage – exploring themes of memory and oblivion, technological triumph and fiasco, permanence and impermanence, mortality and time." Through June 5, 2021. Photo above: Adam Davies, Starboard, 2019
LEARN MORE
MARCH 29, 2021
APRIL FREELY INTERVIEWED IN ART IN AMERICA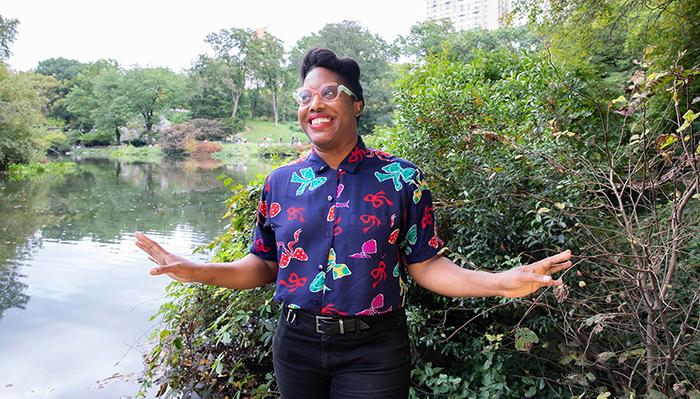 The March 23rd issue of Art in America features a new interview with April Freely (Writing Fellow 2017-2018) and Executive Director of the Fire Island Artist Residency on "Creative Resilience in the Face of Hardship." As Freely tells Francesca Aton in her piece for Art In America, "The last year has felt particularly dampened and dark, but these are the moments when the boundaries of creative practice are tested and can bear the most weight or meaning in our larger culture. There's something so resilient not only about those who are continuing their creative process but also about the work that is being made during this time." Photo above: Felli Maynard for QAM Community Portrait Project
LEARN MORE
MARCH 18, 2021
MATT BOLLINGER'S SOLO EXHIBITION OPENS AT ZÜRCHER GALLERY NY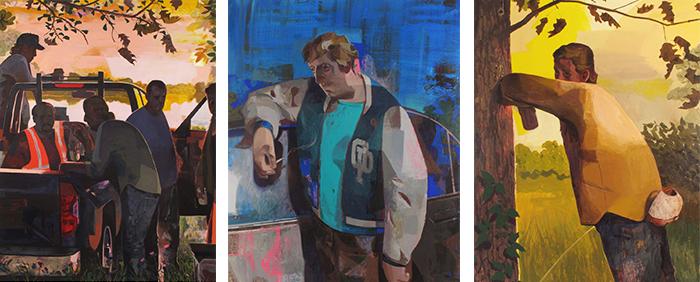 Zürcher Gallery NY is currently presenting, "Furlough," its seventh solo exhibition for painter Matt Bollinger (Visual Arts Fellow 2010-2011 and 2009-2010). "The body of work depicts white working class people facing the various tensions of the moment. Several paintings focus on single men or groups of men "blowing off steam" after being furloughed – drinking rather than dealing with the feelings caused by being out of work – the work which so often is a source of personal definition. These are the figures that give me the greatest feeling of ambiguity, examples of the toxic masculinity that antagonized me growing up as well as the faces that haunted the video footage from the January 6th insurgency," writes Bollinger. Through April 29. Above images left to right: Furlough I, 2021, flashe and acrylic on canvas, 78" x 60" Furlough IV, 2021, flashe and acrylic on canvas, 48" x 38" Furlough III, 2021, flashe and acrylic on canvas, 48" x 38"
LEARN MORE
MARCH 07, 2021
VOGUE MAGAZINE FEATURES HEIDI HAHN'S PAINTINGS TO ILLUSTRATE STORY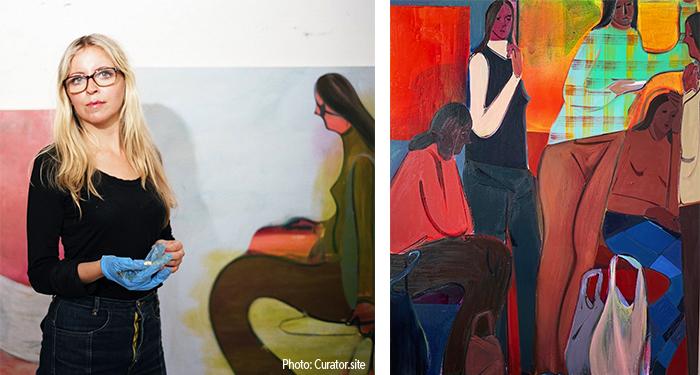 Painter Heidi Hahn (Visual Arts Fellow 2015-2016 and 2014-2015) was selected to illustrate a recent story in Vogue Magazine as part of its "Life in Lockdown" series. The story, "The Year of Invisible Crisis: Three Women on Losing-Or-Leaving-Their Jobs During the Pandemic," written by Michelle Ruiz, appeared in Vogue on March 4, 2021 and featured three of Hahn's remarkable paintings.
LEARN MORE
MARCH 01, 2021
SABLE ELYSE SMITH – "MARKING TIME" GROUP EXHIBITION AT MOMA PS1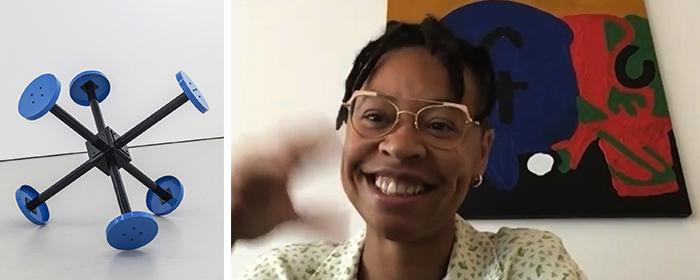 Sable Elyse Smith (Visual Arts Fellow 2016-2017) is one of the featured artists in "Marking Time: Art in the Age of Mass Incarceration," a group exhibition now open at MoMA PS1 in Queens, NYC. "This major exhibition explores the work of artists within US prisons and the centrality of incarceration to contemporary art and culture. It showcases art made by people in prisons and work by nonincarcerated artists concerned with state repression, erasure, and imprisonment. "Marking Time: Art in the Age of Mass Incarceration" highlights more than 35 artists, including American artists, Tameca Cole, Russell Craig, James "Yaya" Hough, Jesse Krimes, Mark Loughney, Gilberto Rivera and Sable Elyse Smith. The exhibition has been updated to reflect the growing COVID-19 crisis in US prisons, featuring new works by exhibition artists made in response to this ongoing emergency." Through April 4. Artwork: Sable Elyse Smith, Pivot II, 2019, stainless steel with 2k painted finish, 56" x 56" x 56". Courtesy of the artist, JTT, New York and Carlos/Ishikawa, London
LEARN MORE
FEBRUARY 22, 2021
"THE COMMITTED" – A NEW NOVEL FROM VIET THANH NGUYEN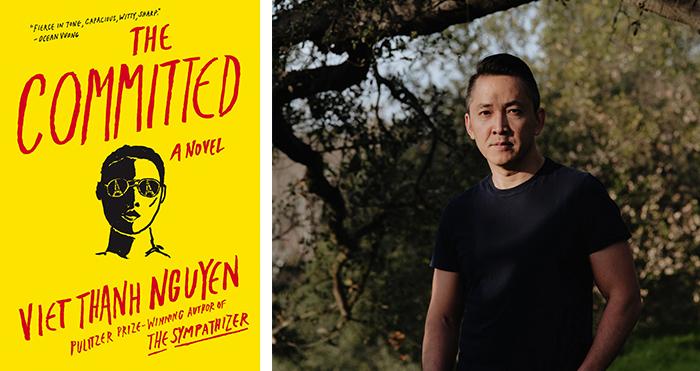 The Committed, the new novel from Viet Thanh Nguyen (Writing Fellow 2004-2005) has just been released from Grove Press. The new book is a sequel to his Pulitzer Prize-winning debut, The Sympathizer. "Like The Sympathizer, The Committed hinges on questions about individual and collective identity and memory, how wars are memorialized, whose war stories get told and what happens when abstract political ideologies are clumsily deployed in the real world. It is packed with gunfights, kidnappings, sex and drugs but delivered in dense prose that refers to obscure scholarly texts and name-checks philosophers like Sartre, Voltaire, de Beauvoir, Fanon and Rousseau," writes Alexandra Alter in her recent New York Times article. Photo: Joyce Kim for The New York Times
LEARN MORE
FEBRUARY 19, 2021
"REFLECTING ON RED DARKNESS" – POET DENIS JOHNSON & ARTIST SAM MESSER

"Red Darkness" is a poem that Denis Johnson (Writing Fellow 1981-1982) wrote in response to Sam Messer's (Visual Fellow 1981-1982) paintings and drawings that were part of Sam's solo Fellow exhibition in 1982. It was the first of many collaborations between the two dear friends. At the show's opening on February 20, 1982, Denis had printed out copies of his poem "Red Darkness" with a cover that was printed at the local printshop. Denis read the poem, while a slide projector showed more of Sam's paintings. It was truly a special evening. Years later, in 2012, Denis recounted to Sam that the order of the lines within the poem actually came from Denis asking friends to pick the lines randomly out of his hat one by one – and he kept that order for the poem. "Reflecting on Red Darkness" is a new video-in-progress of the first three stanzas of the poem – it will eventually include all six stanzas. This new video piece, produced and edited by Russell Jaffe, and narrated by Liev Schreiber, has been created to celebrate the 39th anniversary of that wonderful night. The video features "48 Curiosities" by Nyla van Ingen (remixed by Russell Yaffe). Click below to watch the video.
LEARN MORE