NEWS
MARCH 01, 2021
SABLE ELYSE SMITH – "MARKING TIME" GROUP EXHIBITION AT MOMA PS1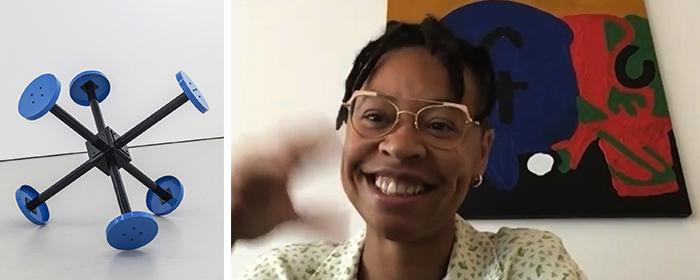 Sable Elyse Smith (Visual Arts Fellow 2016-2017) is one of the featured artists in "Marking Time: Art in the Age of Mass Incarceration," a group exhibition now open at MoMA PS1 in Queens, NYC. "This major exhibition explores the work of artists within US prisons and the centrality of incarceration to contemporary art and culture. It showcases art made by people in prisons and work by nonincarcerated artists concerned with state repression, erasure, and imprisonment. "Marking Time: Art in the Age of Mass Incarceration" highlights more than 35 artists, including American artists, Tameca Cole, Russell Craig, James "Yaya" Hough, Jesse Krimes, Mark Loughney, Gilberto Rivera and Sable Elyse Smith. The exhibition has been updated to reflect the growing COVID-19 crisis in US prisons, featuring new works by exhibition artists made in response to this ongoing emergency." Through April 4. Artwork: Sable Elyse Smith, Pivot II, 2019, stainless steel with 2k painted finish, 56" x 56" x 56". Courtesy of the artist, JTT, New York and Carlos/Ishikawa, London
LEARN MORE
FEBRUARY 22, 2021
"THE COMMITTED" – A NEW NOVEL FROM VIET THANH NGUYEN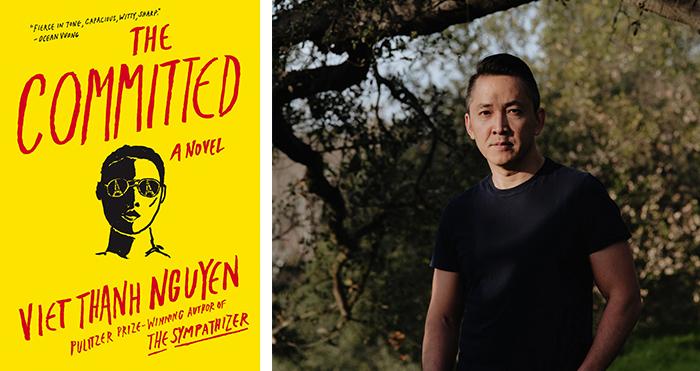 The Committed, the new novel from Viet Thanh Nguyen (Writing Fellow 2004-2005) has just been released from Grove Press. The new book is a sequel to his Pulitzer Prize-winning debut, The Sympathizer. "Like The Sympathizer, The Committed hinges on questions about individual and collective identity and memory, how wars are memorialized, whose war stories get told and what happens when abstract political ideologies are clumsily deployed in the real world. It is packed with gunfights, kidnappings, sex and drugs but delivered in dense prose that refers to obscure scholarly texts and name-checks philosophers like Sartre, Voltaire, de Beauvoir, Fanon and Rousseau," writes Alexandra Alter in her recent New York Times article. Photo: Joyce Kim for The New York Times
LEARN MORE
FEBRUARY 19, 2021
"REFLECTING ON RED DARKNESS" – POET DENIS JOHNSON & ARTIST SAM MESSER

"Red Darkness" is a poem that Denis Johnson (Writing Fellow 1981-1982) wrote in response to Sam Messer's (Visual Fellow 1981-1982) paintings and drawings that were part of Sam's solo Fellow exhibition in 1982. It was the first of many collaborations between the two dear friends. At the show's opening on February 20, 1982, Denis had printed out copies of his poem "Red Darkness" with a cover that was printed at the local printshop. Denis read the poem, while a slide projector showed more of Sam's paintings. It was truly a special evening. Years later, in 2012, Denis recounted to Sam that the order of the lines within the poem actually came from Denis asking friends to pick the lines randomly out of his hat one by one – and he kept that order for the poem. "Reflecting on Red Darkness" is a new video-in-progress of the first three stanzas of the poem – it will eventually include all six stanzas. This new video piece, produced and edited by Russell Jaffe, and narrated by Liev Schreiber, has been created to celebrate the 39th anniversary of that wonderful night. The video features "48 Curiosities" by Nyla van Ingen (remixed by Russell Yaffe). Click below to watch the video.
LEARN MORE
FEBRUARY 16, 2021
TIMOTHY HORN – "FORCES OF NATURE: RENWICK INVITATIONAL 2020/2021"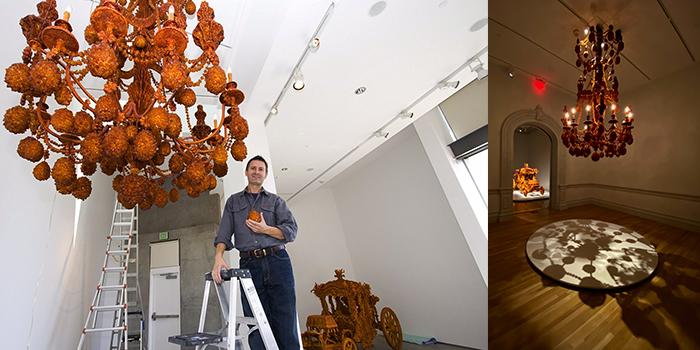 Timothy Horn (Visual Arts Fellow 2005-2006) is one of four artists selected to participate in "Forces of Nature: Renwick Invitational 2020" at the Smithsonian American Art Museum in Washington, DC. "Forces of Nature" is the ninth installment of the Renwick Invitational. Established in 2000, this biennial showcase highlights midcareer and emerging makers who are deserving of wider national recognition. The exhibition features five of Horn's large sculptural works. "Horn creates exaggerated adornments that combine natural and constructed worlds, taking inspiration from objects as varied as seventeenth-century jewelry patterns and nineteenth-century studies of lichen, coral, and seaweed. He works with traditional materials, such as bronze and glass, as well as surprising ones, like crystalized rock sugar, which refers to the extravagant Amber Room of Russian Empress Catherine the Great." The exhibition will be reopening later in 2021.
LEARN MORE
FEBRUARY 11, 2021
THE WORK CENTER WELCOMES JENNIFER JEAN – OUR NEW 24PEARLSTREET PROGRAM MANAGER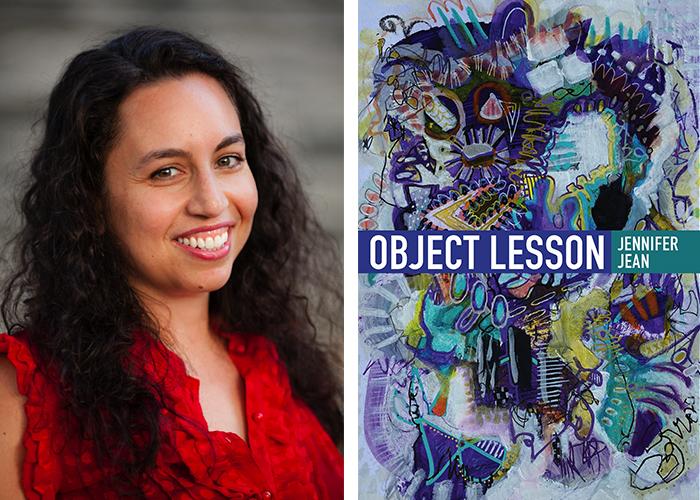 The Work Center is delighted to announce the appointment of Jennifer Jean to Program Manager of 24PearlStreet, our year-round, online writing program. Jennifer has been teaching creative writing for eighteen years and was most recently Managing Editor for Talking Writing Magazine. She's been awarded a Peter Taylor Fellowship from the Kenyon Review Writers Workshop, a Disquiet FLAD Fellowship from Dzanc Books, and an Ambassador for Peace Award from the Women's Federation for World Peace. Jennifer is a co-translator of Arabic poetry – as well as an organizer – for the Her Story Is collective. Her prose, poetry, and co-translations have appeared in: Poetry Magazine, Waxwing Journal, Rattle Magazine, Crab Creek Review, DMQ Review, On the Seawall, Salamander, The Common, and more. Her poetry collections include Object Lesson and The Fool. She's also released the teaching resource Object Lesson: a Guide to Writing Poetry. In announcing the appointment, Executive Director Richard MacMillan said "Jennifer's evident talent, warmth and curiosity as well as her keen understanding of the growing importance of online learning and its potential to assist creatives will provide exciting leadership for the next phase of development of 24PearlStreet. We welcome her wholeheartedly!"
LEARN MORE
FEBRUARY 03, 2021
ARGHAVAN KHOSRAVI IN GROUP EXHIBITION AT ORLANDO MUSEUM OF ART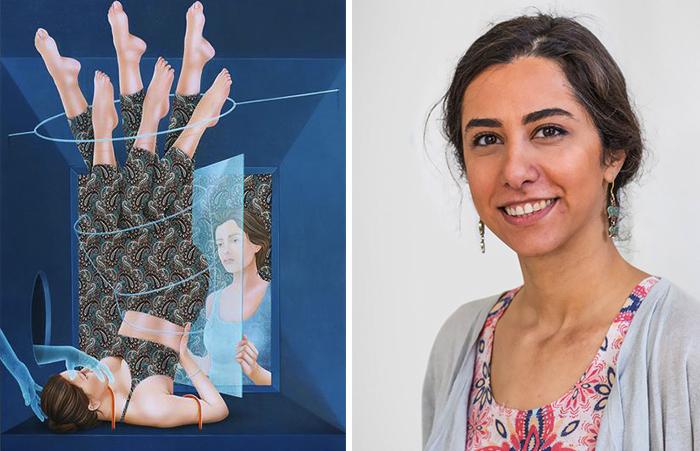 Arghavan Khosravi (Visual Arts Fellow 2018-2019) is one of 21 US-based artists of Arab and Iranian heritage who are part of the exciting new group exhibition, "A Boundless Drop to a Boundless Ocean." The show is a collaboration between the Orlando Museum of Art and the American University in Cairo that is curated by Dr. Shiva Balaghi, with support from Coralie Claeysen-Gleyzon. "The exhibition's title, taken from Kahlil Gibran's bestselling book, The Prophet, describes an immigrant's transformation from "a boundless drop to a boundless ocean." The show begins with a drawing by Gibran. The immigrant artist's journey entails a creative negotiation between the past and the present, between here and there. Along the way, diasporic artists create their own visual language that can convey meaning across cultural, linguistic, and social borders." The exhibition runs through May 2. Image: Simurgh (The Muslim Ban Series), 2017, acrylic, inkjet print (of scanned pages of Arghavan's Iranian Passport) on paper, 29" x 22"
LEARN MORE
FEBRUARY 02, 2021
WE REMEMBER RICHARD MCCANN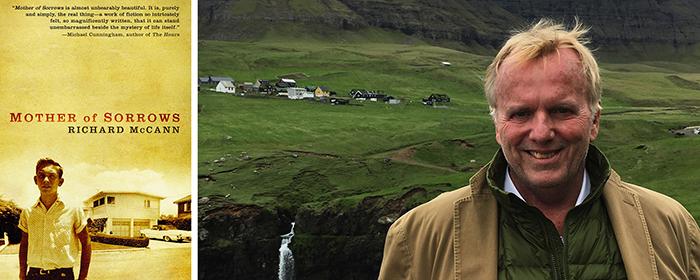 Richard McCann (Writing Fellow 1993-1994 and 1972-1973), a beloved writer long associated with The Fine Arts Work Center died on January 25, in Washington DC. He had been twice a Fellow at the Work Center, served on the Board of Trustees from 2000-2008, and taught writing for many years in the Work Center's Summer Program. Richard was Professor Emeritus of Literature in the MFA program in Creative Writing at American University. Countless writers, not only at AU but in the MFA program at Vermont College and in the Summer Program of The Fine Arts Work Center in Provincetown remember his brilliance, boldness, his love of sentences, style, and language; his generous heart and his uncontainable wit. He will be greatly missed and lovingly remembered.
LEARN MORE
JANUARY 31, 2021
YUSEF KOMUNYAKAA'S NEW COLLECTION OF POETRY FORTHCOMING IN JUNE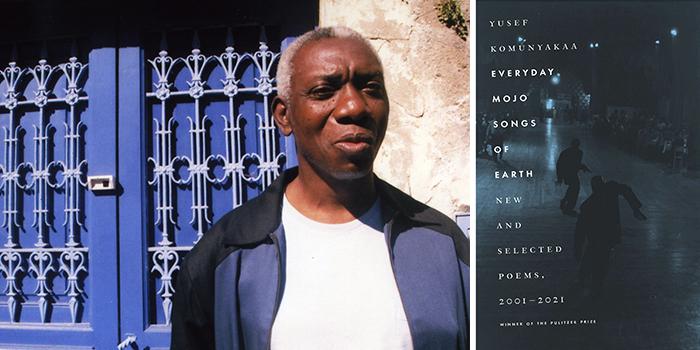 Everyday Mojo Songs of Earth, New and Selected Poems, 2001-2021 – the new collection of poetry from Yusef Komunyakaa (Writing Fellow 1980-1981) "brings together selected poems from the past twenty years of Yusef Komunyakaa's work, as well as new poems from the Pulitzer Prize winner. Komunyakaa's masterful, concise verse conjures arresting images of peace and war, the natural power of the earth and of love, his childhood in the American South and his service in Vietnam, the ugly violence of racism in America, and the meaning of power and morality." Available from Farrar, Straus and Giroux June 2021. Click below to read "Five Poets That Yusef Komunyakaa Returns to Again and Again," his recent interview in the New York Times. Photo: Laren Mcclung
LEARN MORE
JANUARY 29, 2021
MONROE ART CENTER FEATURES WORKS BY GABE PIONKOWSKI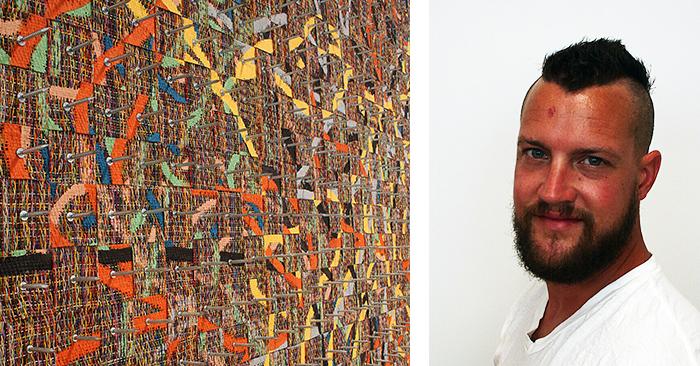 A new solo exhibition, "Revision Extension," featuring the works of Gabe Pionkowski (Visual Arts Fellow 2013-2014), has just opened at the Monroe Art Center in Monroe, WI. Talking about his work, Pionkowski says, "My paintings are made by deconstructing canvas thread by thread, hand painting each thread, and reconstructing them on a traditional handloom. The majority of the work presented in this exhibition has focused on painting back onto the newly constituted plane. These marks divide the surface laterally and penetrate to mark the backside. In an attempt to bring forward what has sank, the canvas is cut, each strip folded along a central axis, and woven into itself. The result are paintings that holds themselves in a precarious state between the initial subject and that which, although constituted as itself is also beyond; between certainty and uncertainty, unison and chaos." The exhibition runs through April 9.
LEARN MORE
JANUARY 29, 2021
ANGELA DUFRESNE'S NEW EXHIBITION OPENS AT THE YOSSI MILO GALLERY

"Long and Short Shots," Angela Dufresne's (Visual Arts Fellow 2003-2004 and 2002-2003) extraordinary exhibition of recent paintings has just opened at the Yossi Milo Gallery in NYC. "Dufresne uses her painterly long shot to produce vast tableaux that vibrate with atomistic energy in which figure and atmosphere have equivalent force. However, these works also interrogate the social fabric that lurks outside the frame. Her bawdy, defiant figures, often depicted in close-up shots, relish the ambivalent spaces that exist in between the utopian diegesis of the canvas and the unknown, more abstract, off-screen sites of possible conflicts or risk-laden adventures. The construct of desire is central – to be wanted, to be recognized, to be taken. The internal emotional conditions of the subjects depend on, as well as inform, the swelling rise of group pathos and, often, unchecked erotic play," writes Melissa Ragona. The exhibition runs through March 13.
LEARN MORE