Summer Workshop Program 2023
Please note:
The tuition for all Summer Program Workshops is the following:
$900-Sustaining Rate, $700-Regular Rate, $500-Student/Teacher Rate
Upon checkout you will be asked to select the option that fits your situation.
For more information on our new tuition rates, please click
here
.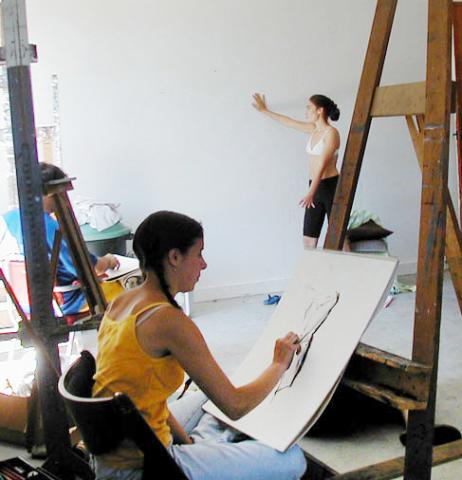 Provincetown Artists
5 Artists, 5 Days: Drawing and Painting the Figure
July 29 to August 3, 2018
Tuition: $650
Model Fee: $40
Workshop: 9am-Noon
Discipline: Painting
OPEN TO ALL
On-site Housing NOT Available - Off-site Housing Options
Five of Provincetown's favorite artists join us as faculty for a weeklong workshop devoted to drawing and painting the figure. Work with a new faculty member each day for five days. Includes mid-week panel discussion with all faculty on the Art of the Figure.
Monday: Michael Prodanou (Drawing)
Edgar Degas wrote, "…art is not what you see, but what you make others see." This workshop applies this idea to drawing the figure. We will explore drawing as a continuous process pushing the tools we use to create an original idea and image.
Tuesday: Larry Collins (Drawing)
We will focus on some basic but often overlooked skills necessary for producing successful objective figure drawings. Proportion, basic structures and anatomical landmarks, and skills for measuring, drawing cylinders, and modeling forms in light and shade will be covered. Using charcoal on paper and a live model, we will begin to combine what we know with what we see.
Wednesday: Jo Hay (Painting)
This well-structured class deals with the importance of being able to see and execute the simple geometric forms that make up the figure to successfully provide a solid foundation for any painting style. Initially, several line drawings will be made in charcoal to familiarize the student with the class goal. Moving then to oil paint, and using only the primary colors students will focus on cohesive color mixing to consciously block in the figure going on to resolve the painting as far as possible within the class time frame. Clear instruction will be given throughout each stage and student discussion of all topics related to the class will be encouraged to enhance the group learning experience.
Thursday: Mark Adams (Painting)
The body is built on a set of cantilevered masses balanced in dynamic counterpoise. Universal joints spin shoulders and hips from an arced and stacked spine. Character and personality are lodged in the silhouette and a particular slant of the neck and turn of the face. A few dark masses balanced in rhythm suggests that the body is always in motion, even in a snapshot pose. One approach to the figure is to follow the connections between spine and limb and neck to record where the figure is going, either from gravity or intention. I like to work with walnut ink and a brush, alternately carving a line or just connecting areas of deep shadow that define form. It can be risky and sometimes fails to get the classic proportions but detailed observation and gesture often make for an exciting drawing. I almost always start with blind contour drawing and then add connected brush strokes. I work quickly in continuous line. We'll use standard methods involving quick poses to lead into longer studies with breaks. We'll work with foreshortening and action.
Friday: Forrest Williams (Painting)
Instruction in painting from the live model. Students will be encouraged to create a basic palette from observation of the model, using oil paint. Setting up a composition on either canvas or panel (student's choice) will be considered. Students will receive individual instruction as they develop a figurative painting from observation. We will emphasize the basic forms of the figure as well as value and light and shadow. Students are encouraged to arrive with a pre-tinted (and dry) canvas or panel, which will provide a ready-made ground upon which to build the painting.
Biography
Michael Prodanou, a trained architect, began drawing and painting in 2000. His influences include Egon Shiele and the German Expressionists as well as Bay Area figure painters David Park and Nathan Olivera. Prodanou has had exhibitions at Rossetti Fine Arts in Ft. Lauderdale and in Provincetown at The School House Gallery, PAAM and The Fine Arts Work Center. He teaches in Provincetown and Ft. Lauderdale.
Larry R. Collins was raised in Del City, Ok. After receiving his BFA from the University of Oklahoma, he was drafted into the Army and sent to Vietnam. During the war he served as an infantryman and a combat illustrator. Collins received his MFA from the Massachusetts College of Art and Design in 1980. He has exhibited internationally and his paintings, drawings, photographs and artist's books are included in the permanent collections of the Museum of Fine Arts, Boston, International Center of Photography, Sheldon Art Museum, Wadsworth Atheneum, Worcester Art Museum, Provincetown Art Association and Museum, among others. He has collaborated on limited-edition books with poets Allen Ginsberg, Lawrence Ferlinghetti and Eileen Myles.
Born in 1964 in Newcastle Upon Tyne, England, Jo Hay has a BA in Graphic Design from Middlesex University, London UK. Hay has worked as a magazine art director in London and New York. She attended painting classes at the Art Student's League of New York and earned an MFA in Painting from the New York Academy of Art. She lives and paints in Provincetown, MA.
Mark Adams has been a cartographer with the National Park Service for over 25 years and a painter showing at the Schoolhouse Gallery in Provincetown. He has also exhibited photography, scientific illustration and video art. He has traveled with a sketchbook in Asia, Central America and Europe and has recently illustrated and co-authored a geologic primer on the Coastal Landforms of Cape Cod with geologists from the Center for Coastal Studies and Woods Hole Oceanographic Institution.
Forrest Williams is a figurative painter who has shown his work in San Francisco, New York, Portland, Montreal, and for numerous summers at Provincetown's AMP gallery in the east end. He lives and works in both New York City and Provincetown.