Summer Workshop Program 2023
Please note:
Orientation for Weeks 3-11 is on Sunday; Workshops are Monday through Friday. See an example of a week at FAWC
here
.
Eric Fair
Creeds, Conflicts and Confessions: Short Stories and Personal Essays
July 24 to July 29, 2016
Tuition: $600
Workshop: 1-4PM
Discipline: Fiction
OPEN TO ALL
On-site Housing Available
The world seems awash in conflict. We will write about it. Through op-eds, short stories, and personal essays, students will explore the creeds that define their understanding of the world, the conflict they have seen, and the role of confession in narrative.
Biography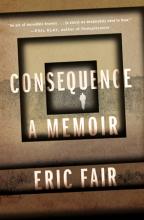 ERIC FAIR's memoir, Consequence, will be published by Henry Holt in April 2016. He is an Army veteran who worked in Iraq as a contract interrogator in 2004 and 2005. He won a Pushcart prize for his 2012 essay "Consequence," which was published first in Ploughshares and then in Harper's Magazine. His op-eds on interrogation have been published in The Washington Post and The New York Times. He lives in Bethlehem, Pennsylvania.