Summer Workshop Program 2023
Please note:
The tuition for all Summer Program Workshops is the following:
$900-Sustaining Rate, $700-Regular Rate, $500-Student/Teacher Rate
Upon checkout you will be asked to select the option that fits your situation.
For more information on our new tuition rates, please click
here
.
Josh Neufeld
Memoir Comics Workshop
July 31 to August 5, 2016
Tuition: $650
Workshop: 9AM-Noon
Discipline: Nonfiction/Memoir
OPEN TO ALL
On-site Housing NOT Available - Off-site Housing Options
Comics use words and pictures together to form powerful narratives. In this workshop, you will use material from your own life to create an original minicomic. It can be about last night's dinner, or a moment that changed you forever — as long as it fits into a booklet of 8-12 pages. At the end of the week, we'll reproduce and swap our minis, and set up an open studio to share our work.
We'll examine some basic principles of visual storytelling. We'll also do writing, brainstorming, and collaborative exercises we've found useful in producing strong comics work. There will be group feedback to hone our stories, find the narrative "beats," and help each other discover our "true" story. We'll generate ideas for solving storytelling problems — and look at how other cartoonists have grappled with them.
You'll have time to work on your projects in class each day, but you will also probably do some drawing on your own. One of the key features of comics is that they are printed and reproduced. You'll also design and produce a small edition of your minicomic to share with the other workshop members and for open studio. You'll come out of this workshop with a tool set for taking your work to another level.
Please email a short description of the autobiographical story you're going to work on and two character sketches (yourself and another character) to to workshops@fawc.org by July 10.
This prior work will help us jump into this intensive project.
Biography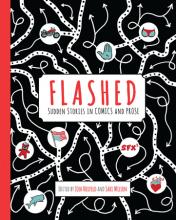 JOSH NEUFELD, author of A.D.: New Orleans After the Deluge (Pantheon), and illustrator of The Influencing Machine (W.W. Norton), has been an Atlantic Center for the Arts Master Artist and a Knight-Wallace Fellow.