Summer Workshop Program 2023
Please note:
The tuition for all Summer Program Workshops is the following:
$900-Sustaining Rate, $700-Regular Rate, $500-Student/Teacher Rate
Upon checkout you will be asked to select the option that fits your situation.
For more information on our new tuition rates, please click
here
.
Marjorie Portnow
Plein Air Landscape Painting
June 12 to June 17, 2016
Tuition: $650
Workshop: 9AM-Noon
Discipline: Painting
OPEN TO ALL
On-site Housing NOT Available - Off-site Housing Options
In this on-site outdoor landscape painting class, we will go outside every morning and paint directly from nature. At several different sites, we will respond to the various individual locations. Emphasis is on both the intense observation of nature and your personal visual response. Oil paints are preferred, but acrylics are accepted materials. There will be individual attention and group critiques. Previous experience helpful, but not necessary.
Biography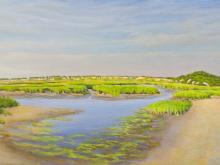 MARJORIE PORTNOW's paintings have been exhibited at the Metropolitan Museum, Boston Museum of Fine Arts, National Academy of Art (NYC), and Corcoran Gallery of Art. Her paintings are in the permanent collections of the Metropolitan Museum of Art and Boston Museum of Art, among others. Recipient of two NEA Grants, two Ingram Merrill grants, two Radcliffe Institute grants, and two Tiffany Grants. She teaches at Western Connecticut State University and has been elected to permanent membership in the National Academy of Art.