Summer Workshop Program 2023
Please note:
The tuition for all Summer Program Workshops is the following:
$900-Sustaining Rate, $700-Regular Rate, $500-Student/Teacher Rate
Upon checkout you will be asked to select the option that fits your situation.
For more information on our new tuition rates, please click
here
.
Marcus Wicker
The Politics of Play: A Poetry Workshop
July 22 to July 27, 2018
Tuition: $600
Workshop: 1-4pm
Discipline: Poetry
OPEN TO ALL
On-site Housing NOT Available - Off-site Housing Options
This workshop is part of Social Justice Week.
Once a poet locates an approach that makes quick work of the generative process it is tempting to replicate that success by producing the same poem over and over again. And if the topic of said poem is political in nature (traditionally or personally) the redundancy becomes especially burdensome by way of subject matter. In this workshop we will read, write (play), and discuss poems that employ diverse aesthetic approaches—formal, satirical, oblique, experimental—to address the political and social issues of your choosing.
Biography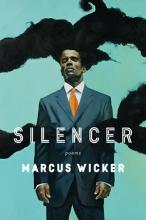 Marcus Wicker is the author of Maybe the Saddest Thing (Harper Perennial), selected by DA Powell for the National Poetry Series. Wicker's awards include a 2011 Ruth Lilly Fellowship, Pushcart Prize, as well as fellowships from Cave Canem, and The Fine Arts Work Center. His work has appeared in Poetry, American Poetry Review, Third Coast, Ninth Letter, and many other magazines. Marcus is assistant professor of English at University of Southern Indiana and poetry editor of Southern Indiana Review. He serves as director of the New Harmony Writers Workshop.