Faculty Presentation: Kyle Lukoff and Mike Curato
Monday, July 24, 2023
6 PM
Join us for a faculty presentation with Kyle Lukoff and Mike Curato.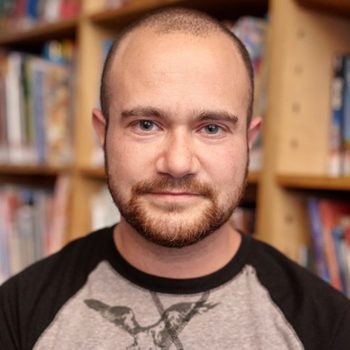 Kyle Lukoff is the author of many books for young readers. His debut middle-grade novel, Too Bright To See, received a Newbery honor, the Stonewall award, and was a National Book Award finalist. His picture book When Aidan Became A Brother also won the Stonewall Award, and his book Call Me Max has been banned in schools across the country. He has forthcoming books about mermaids, vegetables, death, and lots of other topics. While becoming a writer he worked as a bookseller for ten years, as well as a school librarian for nine.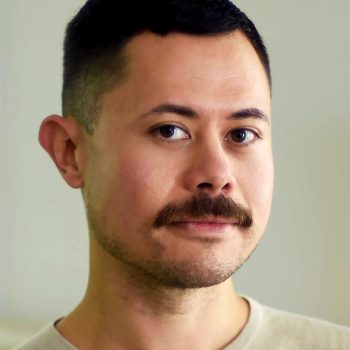 Mike Curato is the author and illustrator of picture books including the award winning Little Elliot series and Where Is Bina Bear?, as well as Flamer, his debut young adult graphic novel, which was awarded the 2020 Lambda Literary Award and the 2021 Massachusetts Book Award. He also illustrated What Are You? by Christian Trimmer, All the Way to Havana by Margarita Engle, Worm Loves Worm by J.J. Austrian, The Power of One by Trudy Ludwig, and What If… and The Sharey Godmother, both written by Samantha Berger. He lives in Northampton, MA.
All readings and artist talks are held in the Stanley Kunitz Common Room, unless otherwise noted. Our annual summer exhibition, Everyone We Know is Here, is on view June 2 through August 25, 2023 in our Hudson D. Walker Gallery. Both venues are located at 24 Pearl Street in Provincetown.
Gallery Hours: Monday – Thursday, 11 AM – 3 PM / Friday and Saturday, Noon – 5 PM

The Stanley Kunitz Common Room and the Hudson D. Walker Gallery are accessible facilities in compliance with ADA guidelines.

If  you require assistance to access these venues, please call the Fine Arts Work Center at 508-487-9960 ext.101 in advance of your visit.