Fellow Fridays: Siennie Lee, Bhion Achimba, Kim Coleman Foote
Friday, March 24, 2023
5-8 PM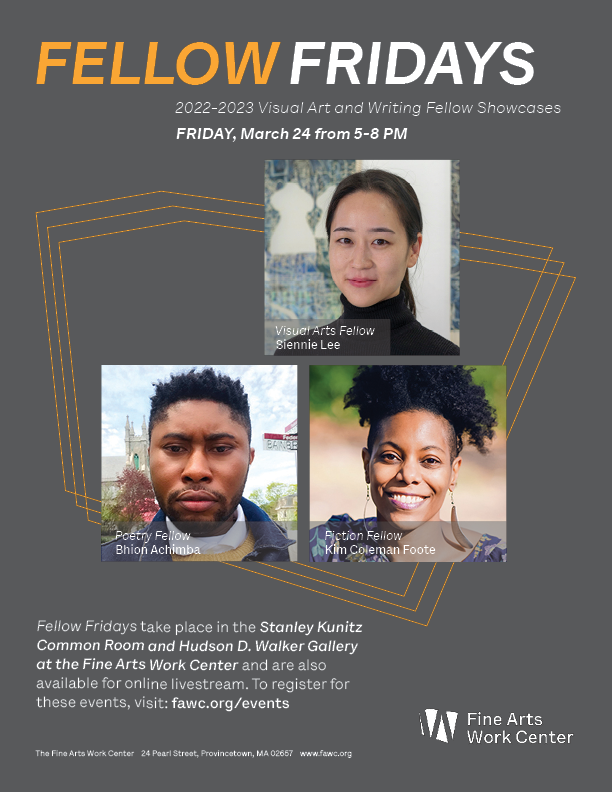 Fellow Fridays are free public events that connect the community to the Visual Arts and Writing Fellows currently in residence at the Fine Arts Work Center. Join us and enjoy artist talks, readings, exhibitions, and creative culinary offerings from Chef Jake Hetnarski. Events take place in the beautifully renovated public spaces of the Work Center: the Stanley Kunitz Common Room and Hudson D. Walker Gallery.
Featured Artists & Writers
Learn about the featured Fellows
Siennie Lee, Visual Arts FellowBorn in Seoul, South Korea, Siennie Lee delves into the intricacies of society through visual languages including painting and installations. Using contemporary photographs, articles and sounds, she invites viewers to ruminate on social issues that are woven into her work. She received her MFA from both Alfred University (2022) and Seoul National University (2018), and her BFA from Seoul National University (2014). Lee has had solo exhibitions at Ohzemidong Gallery, Seoul, Korea; Gallery Dos, Seoul, Korea; and Gallery Grida, Seoul, Korea. Her artwork has been featured in group exhibitions across the globe, including the Provincetown Art Association and Museum, Provincetown, MA; Robert C. Turner Gallery, Alfred, NY; 8BRÜT, Düsseldorf, Germany; Alte Fabrik Oberbilk, Düsseldorf, Germany; Alfred Str. 25, Essen, Germany; Yeonmisan Nature Art Park, Gongju, Korea; HOMA Hongik Museum Art, Seoul, Korea; MoA, Seoul, Korea; SPEEDOM GALLERY, Gwangmyeong, Korea; and Gallery Imazoo, Seoul, Korea. Siennie Lee has worked as a travel art writer, publishing two books in Korea.
Bhion Achimba, Writing Fellow
Bhion Achimba is the pen name of the Nigerian writer Chibuihe Obi Achimba. He is a poet, essayist, and Founding-Editor of Dgëku Magazine. He served as the 2019 Harvard University Scholar At-Risk Fellow, a Visiting Poet in its English Department, and the 2020 Summer Visiting Artist at the Oregon Institute for Creative Research. Achimba has been awarded grants by PEN America, PEN International, Freedom House, and St. Botolph Club Foundation, which named him one of the 2021 Emerging Artists in New England. His writing has been published or forthcoming in The New York Times, The Paris Review, The Harvard Review, Poet Lore, Foreign Policy Magazine, Guernica Magazine, and several other prints and online journals. In August 2021, he was appointed to the editorial board of Transition Magazine at the Hutchins Center, Harvard. He is currently completing an MFA degree in Poetry at Brown University.
Kim Coleman Foote, Writing Fellow
Kim Coleman Foote is a writer of fiction, creative nonfiction, and experimental prose. Her work has appeared most recently or is forthcoming in The Best American Short Stories 2022, Iron Horse Literary Review, Ecotone, The Rumpus, Green Mountains Review, and Prairie Schooner. She has received writing fellowships from Phillips Exeter Academy, the National Endowment for the Arts, the New York Foundation for the Arts, and the Center for Fiction, in addition to a Fulbright. Originally from New Jersey, Foote is working on a book fictionalizing her family's experience of the Great Migration, as well as a black female-centered novel about the trans-Atlantic slave trade. She has also written a memoir about the black diaspora experience in Ghana. She received an MFA in creative writing from Chicago State University.
The Stanley Kunitz Common Room and the Hudson D. Walker Gallery are accessible facilities in compliance with ADA guidelines.
If  you require assistance to access these venues, please call the Fine Arts Work Center at 508-487-9960 ext. 101 in advance of your visit.
This event was made possible in part by the Arts Foundation of Cape Cod.