Fellow Fridays: Elizabeth Flood, Sichong Xie, John Murillo, Christa Romanosky
Friday, April 7, 2023
5-8 PM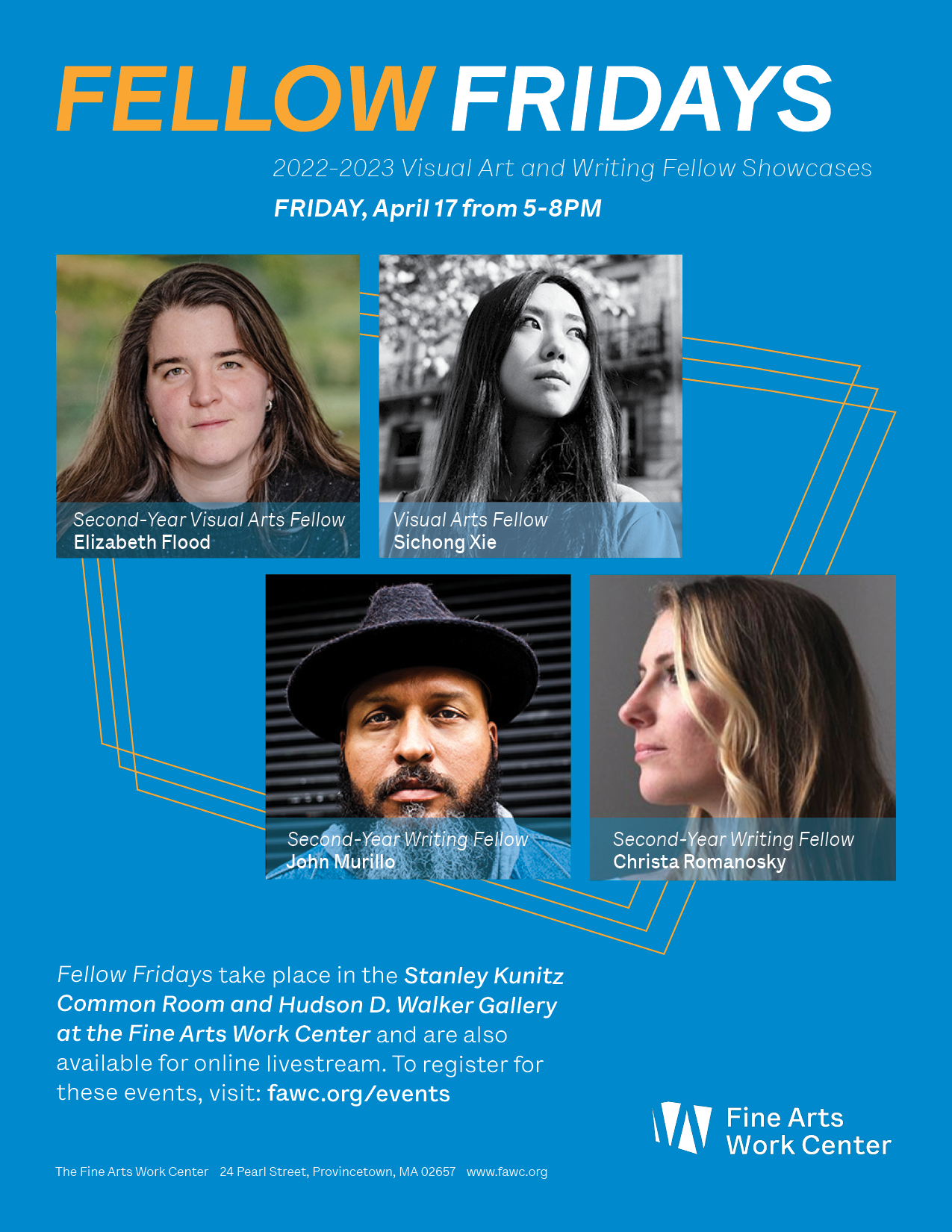 Fellow Fridays are free public events that connect the community to the Visual Arts and Writing Fellows currently in residence at the Fine Arts Work Center. Join us and enjoy artist talks, readings, exhibitions, and creative culinary offerings from Chef Jake Hetnarski. Events take place in the beautifully renovated public spaces of the Work Center: the Stanley Kunitz Common Room and Hudson D. Walker Gallery.
Featured Artists & Writers
Second-Year Visual Arts Fellow
Second-Year Writing Fellow
Second-Year Writing Fellow
Learn about the featured Fellows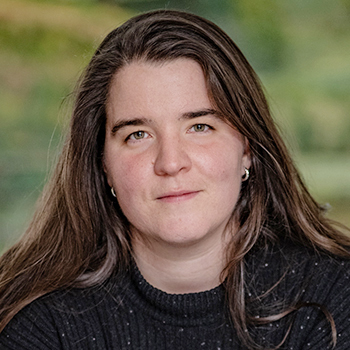 Elizabeth Flood, Visual Arts Fellow
Elizabeth Flood grew up in Virginia. Her paintings and drawings survey complex layers of extraction, violence, and expression within the American landscape. Through her experiential practice of working outdoors in the elements, she forecasts future impact and keeps watch over a country and land in crisis. She earned her MFA in Painting from Boston University (2019); her BA from the University of Virginia (2014), where she studied History, Religion, and Art; and attended the Mount Gretna School of Art (2014-15). In 2019, Flood was a participant at the Skowhegan School of Painting and Sculpture and was an artist-in-residence at the Studios at MASS MoCA. She was awarded Visual Arts Fellowships at the Fine Arts Work Center in 2021 and 2022. Her work has been shown in exhibitions throughout the US, most recently in a 2022 solo exhibition, Battlegrounds, at Real Art Ways in Hartford Connecticut, and in group shows at Exeter Gallery in Baltimore, MD; The Provincetown Art Association and Museum; and Greene House Gallery in Brooklyn. Flood is the recipient of several grants and awards including the Real Art Award, the Elizabeth Greenshields Foundation Grant, the Virginia Museum of Fine Arts Graduate Fellowship, and the John Walker Alumni Award at Boston University. From 2019-2021 she taught as a visiting lecturer in painting and drawing at Colgate University. Second-Year Fellow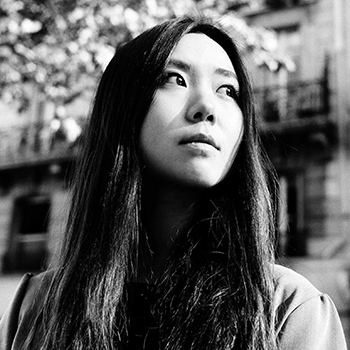 Sichong Xie, Visual Arts Fellow
Sichong Xie combines movement and material in body-based sculptural forms, including masks, costumes, and other objects. By placing traditional sculptural forms within new sites, materials, and social constructs, Xie investigates these forms and movements within global communities to re-consider and re-envision shared spaces and performative practices. She raises questions about identity, politics, cross-culturalism, and the surreal characteristics of her body in the ever-changing environment. Xie received her MFA from the California Institute of the Arts, CA. Her most recent multi-media multi-channel installation "Do Donkeys Know Politics, Scaffold Series I" is currently on view at USC Pacific Asia Museum in Pasadena, CA. She was a fellowship artist at The Studios at MASS MoCA, The Watermill Center, and Skowhegan School of Painting & Sculpture. In 2017, Xie was chosen to participate at Hauser & Wirth Somerset exchange residency in Bath, UK, where she created a four-hour durational performance/installation "Walking With The Disappeared". Recent exhibitions include the Wende Museum, Los Angeles; USC Pacific Asia Museum, Los ; Angeles, Hauser & Wirth, Los Angeles; OCAT Art Museum in Xi'An, China; LACE Gallery, Los Angeles; Night Gallery, Los Angeles; Automata Arts, Los Angeles; Chashama Gallery, New York; Eli Klein Gallery, New York; and The Watermill Center, New York.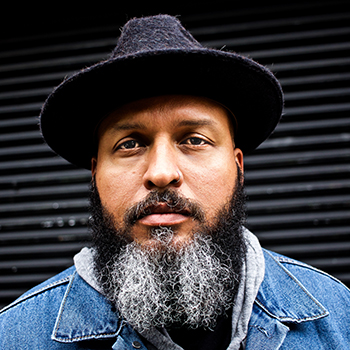 John Murillo, Second-Year Poetry Fellow
John Murillo is the author of the poetry collections Up Jump the Boogie, finalist for both the Kate Tufts Discovery Award and the Pen Open Book Award, and Kontemporary Amerikan Poetry, winner of the Kingsley Tufts Poetry Award and the Poetry Society of Virginia's North American Book Award, and finalist for the PEN/Voelcker Award for Poetry and the NAACP Image Award. His other honors include the Four Quartets Prize from the T.S. Eliot Foundation and the Poetry Society of America, two Larry Neal Writers Awards, two Pushcart Prizes, the J Howard and Barbara MJ Wood Prize from the Poetry Foundation, an NYSCA/NYFA Artist Fellowship, and fellowships from the National Endowment for the Arts, MacDowell, the Bread Loaf Writers Conference, Fine Arts Work Center in Provincetown, Cave Canem Foundation, and the Wisconsin Institute for Creative Writing. Murillo's poems have appeared in such publications as American Poetry Review, Poetry, and Best American Poetry 2017, 2019, and 2020. Currently, he is associate professor of English and director of the creative writing program at Wesleyan University. Second-Year Fellow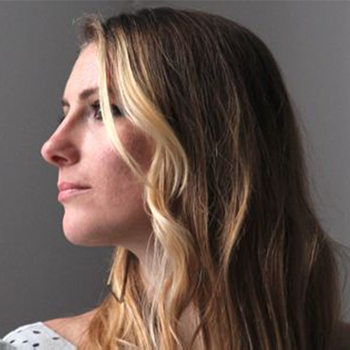 Christa Romoanosky, Second-Year Fiction Fellow
Christa Romanosky is a writer and educator from northern Appalachia. She was a 2017-2018 Provincetown Fine Arts Work Center fellow, and a fall 2018 James Merrill House Writer-in-Residence, and a 2019-2020 fiction fellow through the Tulsa Artist Fellowship. Her work focuses on rural spaces, trauma, and extraction. She earned bachelor's degrees in psychology and creative writing from Carnegie Mellon University, and an M.F.A. from the University of Virginia in poetry. Her fiction has appeared in Best American Short Stories 2021, Glimmer Train, The Massachusetts Review, The Kenyon Review Online, Cincinnati Review, Boston Review, Crazyhorse, and elsewhere. Her poetry has been featured in EPOCH magazine, North American Review, Cimarron Review, The Colorado Review, Mid-American Review, The Kenyon Review Online, and elsewhere. She has completed two albums of music, "All Things Left Unsaid," and "Talk About the Sky." Her music can be found on amazon, pandora.com, and i-tunes. Second-Year Fellow
The Stanley Kunitz Common Room and the Hudson D. Walker Gallery are accessible facilities in compliance with ADA guidelines.
If  you require assistance to access these venues, please call the Fine Arts Work Center at 508-487-9960 ext. 101 in advance of your visit.
This event was made possible in part by the Arts Foundation of Cape Cod.