Visiting Artist Letha Wilson
Thursday, January 20, 2022
5 PM
Letha Wilson is known for combining photography with industrial materials like concrete and steel. Wilson cuts, tears and shapes her photographs, pushing and pulling the prints into place and then encases portions of the composition in cement. She explores the magnetic pull of the American West, alluding to landscape's intrinsic role in our own myths of reinvention, endless possibility, and inevitable promise. Using architecture and three-dimensionality as both frame and armature, Wilson reclaims the photographic image, exploring the medium's inability to encompass the site it represents.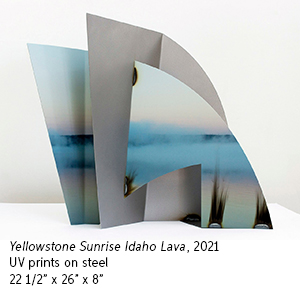 Letha Wilson (1976 Honolulu, US) lives and works near Hudson, New York. She earned her BFA from Syracuse University, and a MFA from Hunter College. Residencies include Skowhegan School of Painting and Sculpture, MacDowell, Yaddo, Bemis Center for Contemporary Arts, and the Headlands Center for the Arts, among others. Wilson has exhibited at MASS MoCA, DeCordova Sculpture Park and Museum, International Center for Photography, Essl Museum (Vienna), Bronx Museum of the Arts, Socrates Sculpture Park and the Aldrich Museum of Contemporary Art. Recent projects include an outdoor public sculpture commissioned by the Rochester Institute of Technology, and a solo exhibition at Galerie Christophe Gaillard in Paris, France.
Please register for this event here.