Fellow Fridays: Georgia Dickie, Tinja Ru­usu­vuori, Jorrell Watkins, Gothataone Moeng
Friday, February 24, 2023
5-8 PM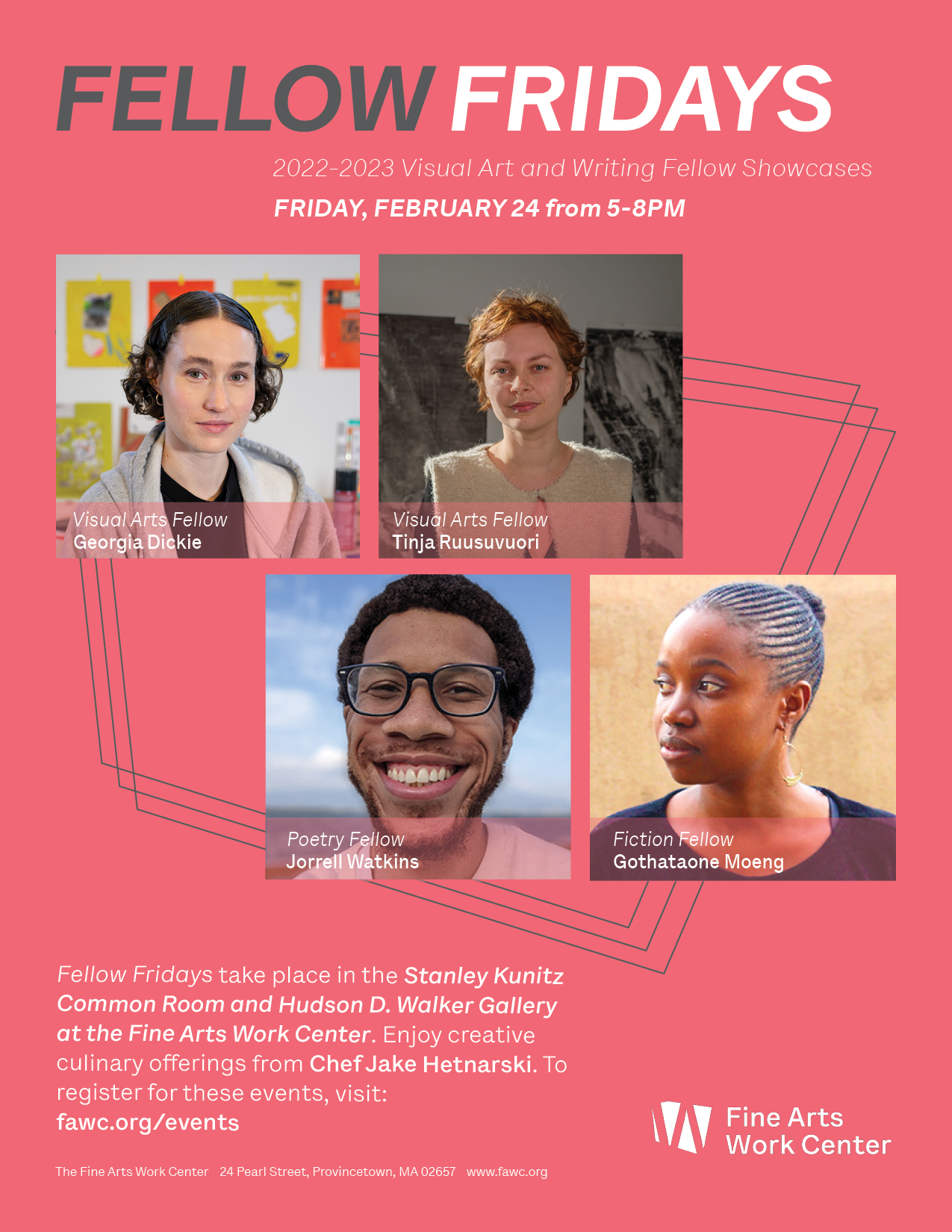 Fellow Fridays are free public events that connect the community to the Visual Arts and Writing Fellows currently in residence at the Fine Arts Work Center. Join us and enjoy artist talks, readings, exhibitions, and creative culinary offerings from Chef Jake Hetnarski. Events take place in the beautifully renovated public spaces of the Work Center: the Stanley Kunitz Common Room and Hudson D. Walker Gallery.
Featured Artists & Writers
5PM
Georgia Dickie,

Visual Arts Fellow 
Tinja Ruusuvuori,
Visual Arts Fellow 
Hudson D. Walker Gallery

Creative Culinary Offerings from

Chef Jake Hetnarski
Stanley Kunitz Common Room
Jorrell Watkins,

Poetry Fellow 
Gothataone Moeng,
Fiction Fellow
Stanley Kunitz Common Room
8PM
Event Ends

Learn about the featured Fellows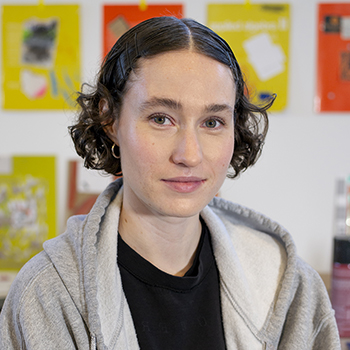 Georgia Dickie, Visual Arts Fellow
Georgia Dickie makes sculptural work out of found objects that she collects in her studio. Her process of reassembling these materials into new arrangements is based on a logic of eschewing and rebalancing their assigned functions. By staging these intricate assemblages, she not only reveals the inherent limitations of material value and meaning, but subverts the ways we are conditioned to see the world. Born in Toronto, Canada, Dickie earned her BFA from the Ontario College of Art and Design University in 2011. Most recently, she was awarded a Visual Arts Fellowship at the Fine Arts Work Center (2022-2023). She was one of the recipients of the 2020 Sobey Art Award, the 2014 recipient of the Toronto Friends of the Visual Arts Artist Prize, and has received visual arts grants from the Canada Council for the Arts, Ontario Arts Council, and Toronto Arts Council. Dickie has exhibited internationally and has held solo shows at Soft Opening, London, UK; Cooper Cole, Toronto; Oakville Galleries, Oakville, ON; Jeffrey Stark, NY; and Halsey McKay, NY. Dickie has been featured in Artforum, Frieze Magazine, Elle Canada, Canadian Art Magazine, among others. In February 2015, she was the Canada Council for the Arts artist in residence at Acme Studios in London, UK. Dickie currently lives and works in Toronto. 
The artist would like to acknowledge the support of the Canada Council for the Arts.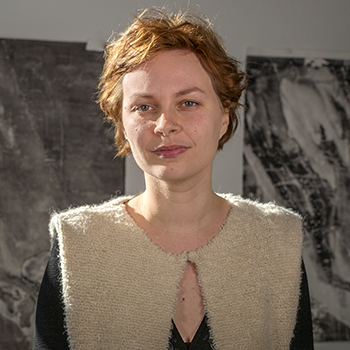 Tinja Ruusuvuori, Visual Arts Fellow

Tinja Ruusuvuori is a multidisciplinary artist and filmmaker with a focus on subjective and creative documentary-making. She is interested in choosing charged objects, images, and gestures that are obeying some mysterious order – and cultivating rather than eradicating that sense of mystery. Through her careful investigation of everyday phenomena, it emerges that these stand as metaphors for wider questions about how and why we live together. With tenderness and humor, she seeks in her work to question a forward trajectory and encourages us to believe in the utopia of now. Ruusuvuori holds a fine art MA from the Glasgow School of Art and a BA in documentary film from Aalto University, Helsinki. She has participated in residencies at the Cité International des Arts Paris and at Hospitalfield, Scotland, while her work has been shown at international film festivals, including Visions du Réel, Toronto Hot Docs, London Short Film Festival, and Camden International Film Festival. In 2019, Ruusuvuori received the Uusi Aalto Award for new talent in Finnish cinema.
The artist would like to acknowledge the support of the Arts Promotion Center Finland.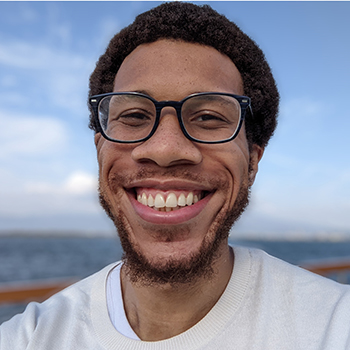 Jorrell Watkins, Writing Fellow
Jorrell Watkins is an educator, writer, and martial artist from Richmond, VA. He is a 2020-21 Fulbright Japan Graduate Research Fellow, an alum of Hampshire College and the University of Iowa, Writers' Workshop. Combined Efforts Theater Company produced his disability inclusive play, Meet us at the Horizon, for its 2019 world premiere. His chapbook, If Only the Sharks Would Bite, was selected as the winner of the inaugural Desert Pavilion Chapbook Series in Poetry. He is the coauthor of Studies in Brotherly Love (Prompt Press, 2021), a poetry chapbook based on Malcolm Corley's paintings, with Claretta Holsey, DJ Savarese, and Lateef McLeod. In 2022, he was a poet contributor to the Poetry Foundation's Poetry & Practice series.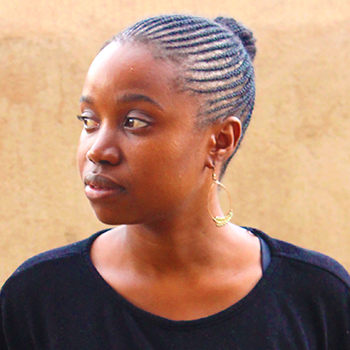 Gothataone Moeng, Writing Fellow
Gothataone Moeng was born in Serowe, Botswana.  She was awarded a 2018-2020 Wallace Stegner Fiction Fellowship, and her writing has also received fellowships and support from Tin House, where she was a 2019 Summer Workshop scholar and from A Public Space, where she was a 2016 Emerging Writer Fellow. Her writing has appeared in A Public Space,The Oxford American, and One Story, amongst others. She holds an MFA Creative Writing (Fiction) from the University of Mississippi.
The Stanley Kunitz Common Room and the Hudson D. Walker Gallery are accessible facilities in compliance with ADA guidelines.
If  you require assistance to access these venues, please call the Fine Arts Work Center at 508-487-9960 ext. 101 in advance of your visit.
This event was made possible in part by the Arts Foundation of Cape Cod.