Artist Talk: Romolo Del Deo
Tuesday, July 12, 2022
6:30 PM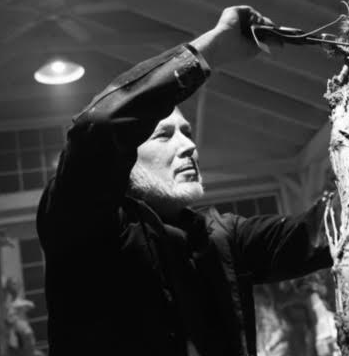 Romolo's work has been described as "Reinvigorating ancient techniques, exploring ideas that speak to us from a place that feels familiar and yet also distant and elevated in times past." Mignon Nixon – Courtauld Institute of Art – London
Romolo will discuss the development of, "The Tree of Life Which Is Ours," which was inspired partly by climate science and partly by myth. This artwork was created for the Marinressa Gardens of Venice, and presents the artist's approach to a sustainable art practice for the 21st century, which he refers to as Long Art, a platform for environmental and sociocultural activism. This approach repurposes artisanal methods from antiquity which require the investment of an artist's time, utilizing natural
materials, as an alternative to the industrialized mass produced processes and products that are driving global warming.
Romolo has previously represented the United States at the G7 conference in Italy 2017. He is a recipient of the Harvard President's Award for Contributions to the Arts,
the Mc Cord Prize for Creativity, The Harvard Danforth Award for Excellence, as well as Awards and grants from the Sumner Bird Foundation, The Gottlieb Foundation, The
Sugarman Foundation, The Henry Moore Foundation and the New York Foundation for the Arts, amongst others. He has created the largest public sculpture on Cape Cod
and is the founder of the Provincetown Public Art Foundation. He maintains studios in Provincetown, MA and Pietrasanta, Italy.
All readings and artist talks are held in the Stanley Kunitz Common Room, unless otherwise noted. Our annual summer exhibition, Density's Glitch, is on view through August 28, 2022 in our Hudson D. Walker Gallery. Both venues are located at 24 Pearl Street in Provincetown.
Gallery Hours: Monday – Thursday, 11 AM – 3 PM / Friday and Saturday, Noon – 5 PM
We require all students, faculty, staff, and guests to wear a mask when indoors at the Work Center.


The Stanley Kunitz Common Room and the Hudson D. Walker Gallery are accessible facilities in compliance with ADA guidelines.

 If  you require assistance to access these venues, please call the Fine Arts Work Center at 508-487-9960 ext. 101 in advance of your visit.