FAWC's 2023 Holiday Book Recommendations – Gifts for Everyone on your List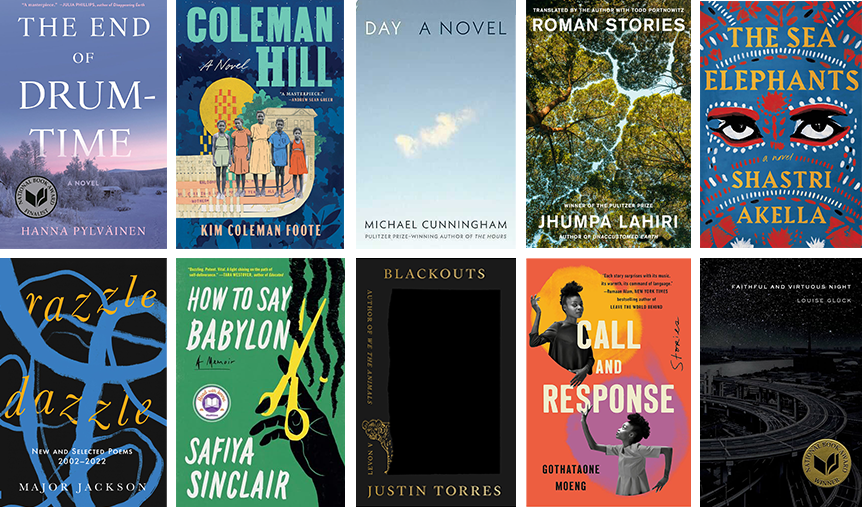 Selected by Executive Director Sharon Polli
From the passions and struggles of Scandinavian reindeer herders to a poet's memoir of breaking free from her rigid Rastafarian upbringing in Jamaica, the Fine Arts Work Center's Fellows and faculty have written some of this year's most anticipated books. We're excited to share these wonderful and varied works from our FAWC community for the 2023 holiday season. 
Past faculty member Justin Torres won the 2023 National Book Award for fiction for his novel Blackouts. Torres' book, along with works from two of our past Writing Fellows, Hanna Pylväinen and Paul Harding, account for more than half of the National Book Awards' 2023 fiction shortlist. Pylväinen wrote the first draft of her novel The End of Drum-Time in the historic Days Lumberyard Barn during her first Work Center fellowship and completed the final draft during her second. In poetry, past Fellow Brandon Som and faculty member Monica Youn are also finalists for this prestigious honor.
Our list includes two debuts from recent Fellows: the novel The Sea Elephants, a queer coming-of-age novel set in 1990s India from Shastri Akella, and Gothataone Moeng's short-story collection Call and Response, exploring the lives of characters caught between tradition and modernity in Botswana.
Pulitzer Prize-winning author and past Fellow Viet Thanh Nguyen published his memoir A Man of Two Faces this fall, which Cathy Park Hong calls "a triumphant memoir that sears through the fog of American amnesia." 
Summer Workshop instructor Cecilia Ruiz has written and illustrated the gorgeous, poignant, and playful children's book Mr. Fiorillo's Head, which explores what happens when the loss of something precious makes room for new possibilities. National Book Award-winner and past Fellow Jacqueline Woodson returns to middle grade with Remember Us, celebrated by The New York Times as a "poetic time capsule from the 12-year-old Sage, an African American girl living in the Bushwick section of Brooklyn during the 1970s."
We also remember one of the Work Center's very first Writing Fellows, the inimitable Louise Glück, who passed away in October, with her National Book Award-winning collection Faithful and Virtuous Night.
Poetry
Razzle Dazzle, by Major Jackson (2000-2001) 
Muscadine, by A.H. Jerriod Avant (2015-2016, 2016-2017) 
From From, by Monica Youn (Nominated for the 2023 National Book Award in Poetry) (faculty)
Tripas, Brandon Som (Nominated for the 2023 National Book Award in Poetry) (2011-2012)
Memoir
How to Say Babylon, by Safiya Sinclair (2015-2016) 
A Man of Two Faces, by Viet Thanh Nguyen (2004-2005) 
Fiction
Blackouts, by Justin Torres (Winner of the 2023 National Book Award in Fiction) (Faculty)
The End of Drum-Time, by Hanna Pylväinen (Nominated for the 2023 National Book Award in Fiction) (2011-2012, 2019-2020) 
Day, by Michael Cunningham (1980-1981) 
This Other Eden, by Paul Harding (Nominated for the 2023 National Book Award in Fiction)(2000-2001)
Tom Lake, by Ann Patchett (1990-1991) 
The Sea Elephants, by Shastri Akella (2021-2022) 
Coleman Hill, by Kim Coleman Foote (2022-2023) 
Lone Women, by Victor LaValle (1998-1999) 
Short Stories
Roman Stories, by Jhumpa Lahiri (1997-1998) 
Call and Response, by Gothataone Moeng (2022-2023) 
Children and Middle Grade
Mr. Fiorello's Head, by Cecilia Ruiz (Faculty) 
Remember Us, by Jacqueline Woodson (1991-1992)
In Memory
Faithful and Virtuous Night, (2014), by Louise Glück (Winner of the National Book Award) (1969-1970) 
Support your favorite local bookstore or beloved Provincetown Independent bookseller East End Books by visiting bookshop.org to purchase books for everyone on your list this holiday season!
Back to Press Center